Scottish election 2021: Record number of women elected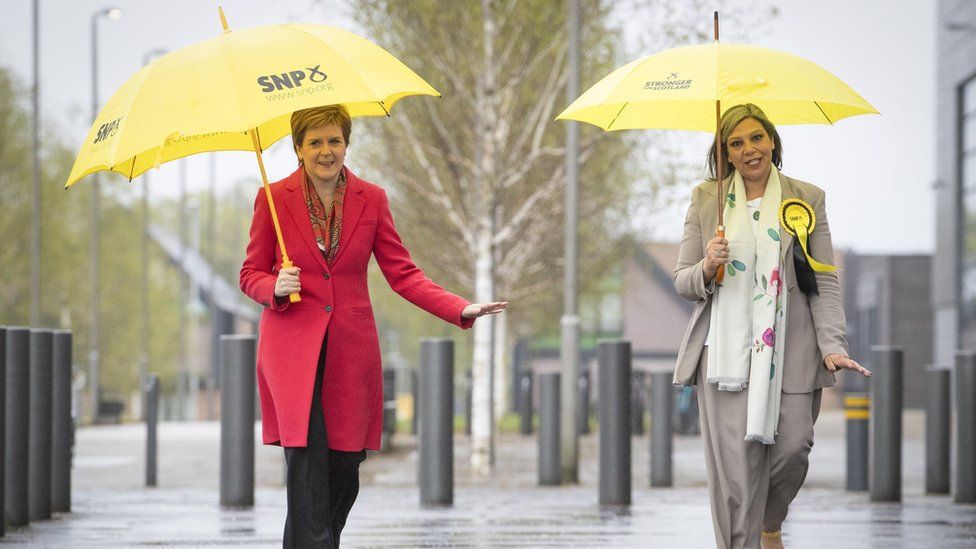 A record number of women have been elected to the Scottish Parliament, with 58 female MSPs winning seats in the Holyrood election.
Women now represent 45% of Scotland's 129 MSPs.
There were 45 women in the last Scottish Parliament, with several parties fielding female candidates to replace MSPs standing down.
The SNP now has 34 women, Labour have 10, the Conservatives have eight, the Scottish Greens have five and the Lib Dems have one female MSP.
The SNP executive committee used all-women lists in nine different areas where former MSPs stood down.
Labour sought to promote women by "zipping" candidates, alternating men and women on their regional lists.
Anas Sarwar, as Scottish Labour leader, should have topped the Glasgow list. However, the party instead positioned Pauline McNeill as the first candidate.
The Scottish Greens came closest to gender balancing their election candidates, with 49% female.
Party co-leader Lorna Slater was elected for the first time as a regional MSP for Lothian. Despite holding a senior position within the party since 2019 she was not a serving MSP.
She told BBC Scotland's The Sunday Show that she was leaving her job as an engineering project manager in renewable energy for the "huge privilege" of a seat at Holyrood.
Ms Slater added: "Obviously we're delighted to have won the largest Green group in parliament that we've ever had.
"Record numbers, more Green women than ever before, it's going to be an exciting term."
It aimed to be a more family friendly than Westminster, but in the 22 years since it was established, Holyrood hasn't made the progress towards a gender balanced parliament that many wanted to see.
In fact, given than fewer female MSPs were elected in 2011 and 2016 than in 1999, the numbers were moving in the wrong direction. Until now.
The record number of women winning seats this year didn't happen by accident though.
Growing pressure on political parties led to them introducing a range of measures to try to address the issue. That included all-women shortlists for constituency selection contests, and zipped lists - where female and male candidates are alternated.
And it appears, from the 2021 outcome, that those have worked.
Campaigners say their work is not done - and may never be done - progress isn't just momentary, they insist, it must be sustained and that takes dedication and determination.
SNP Glasgow Kelvin MSP Kaukab Stewart said it was "an honour" after being elected as the first Muslim woman in the Scottish Parliament's 22-year history.
She has run for election five times having been a campaigner for more than 20 years.
Pam Gosal, West of Scotland region Conservative MSP, said she was "so proud" to be the first representative from an Indian Sikh background.
She added: "The new Scottish Parliament will rightly reflect the diverse nation Scotland is in this day and age, and it is wonderful to be able to have played a part in helping to achieve this."
Before the 2021 election there had been a total of four MSPs from black, Asian and minority ethnic (BAME) backgrounds - all of them men of Scots-Pakistani heritage.
Glasgow Labour MSP Pam Duncan-Glancy has also become the first wheelchair user elected to the Scottish Parliament.
Former Communities Secretary Aileen Campbell said her job was "demanding in terms of pressure and time."
She said she was taking a step back from "frontline party politics and government" to spend more time with her young sons.