Scottish election results 2021: Alex Salmond fails to be elected as MSP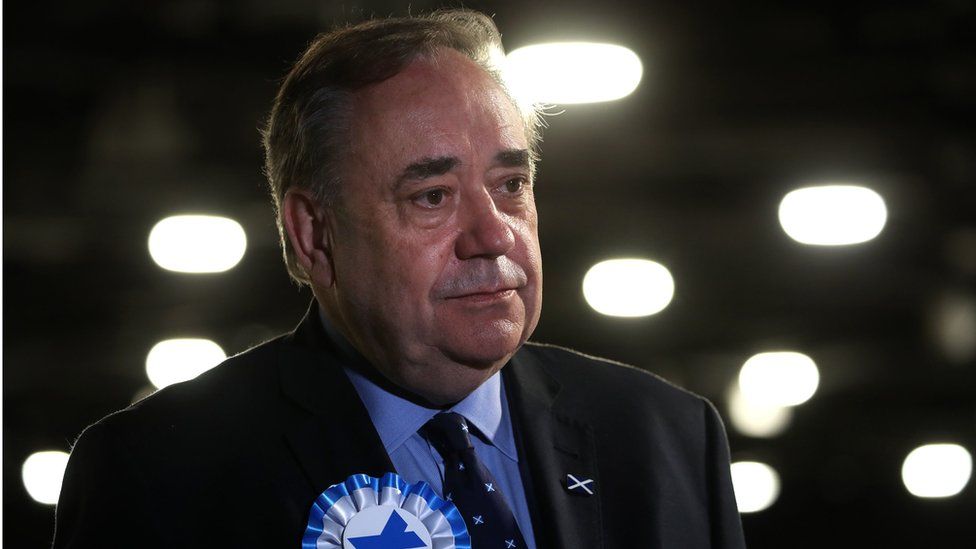 Scotland's former first minister Alex Salmond has failed in his attempt to return to the Scottish Parliament.
However, the party fell short of winning a seat in the region - picking up 8,269 votes, just 2.3% of the total.
Alba had hoped to help secure a pro-independence "supermajority" but will not have any MSPs at Holyrood.
But Mr Salmond insisted Alba was "here to stay" despite the result.
"In only six weeks, Alba has established itself as a political force with which to be reckoned. Alba is now on the political scene and we intend to stay there," he added.
Mr Salmond had attempted to encourage independence supporters to give the SNP - the party he once led - their constituency vote, and Alba their regional vote.
He hoped that if Alba won enough of these regional list seats it could lead to 90 or more MSPs at Holyrood who support independence.
And the party secured some high-profile defections from the SNP - including MPs Kenny MacAskill and Neale Hanvey.
Mr Salmond was once the highest-profile politician in the independence movement.
He joined the SNP in 1973 while at university and was elected an an MP in 1987.
Since then, he served two separate terms as party leader and was Scotland's first minister during the independence referendum in 2014 - stepping down the day after Scotland voted to remain in the UK.
Prior to that he won a judicial review case against the Scottish government after its handling of sexual harassment complaints made about him by two female civil servants was found to have been unlawful.
The situation exacerbated the rift within the SNP between Mr Salmond and his successor Nicola Sturgeon - with the pair, who had once been close allies, becoming embroiled in an increasingly bitter war of words.
He said: "Nicola will prevaricate, Nicola lost her nerve on independence back in 2017 and has never recovered it, it's as simple as that."
He also accused the SNP of "grand old Duchess of York behaviour", saying they were "going up and down this hill innumerable times".
Given that there is now a bigger pro-independence majority at Holyrood than before, Mr Salmond said Ms Sturgeon and her government must deliver on the "promise to take Scotland towards independence".
And he said there was "no excuse for them not to do so".
He also insisted that Alba had been "vindicated" in its strategy of encouraging voters to support his party on the regional list ballot.
Mr Salmond said that Alba had warned that SNP votes would be wasted on the list and "elect zero SNP MSPs in almost every region and that is exactly what has happened".
He continued: "Yet again up to a million SNP votes wasted.
"In contrast in the constituencies unionist parties have been successful in persuading voters to vote tactically to stop the SNP in seats the SNP should have won such as Dumbarton and Eastwood.
"Yet while the Unionists voted smart the SNP persisted with the mantra of 'Both Votes SNP' knowing that it would fail to elect SNP MSPs, but worse than that, that it would allow Tory and Labour MSPs in by the back door."
Mr Salmond hit out at his former party and said: "The SNP sent their troops over the top to waste their votes and it is Scotland and the wider independence movement that is the loser."
Do you have a question about the Scottish Parliament election? Use the form below to send us your questions and we could be in touch.
In some cases your question will be published, displaying your name, and location as you provide it, unless you state otherwise. Your contact details will never be published. Please ensure you have read the terms and conditions.
If you are reading this page on the BBC News app, you will need to visit the mobile version of the BBC website to submit your question on this topic.