Scottish election 2021: Key points on the Holyrood vote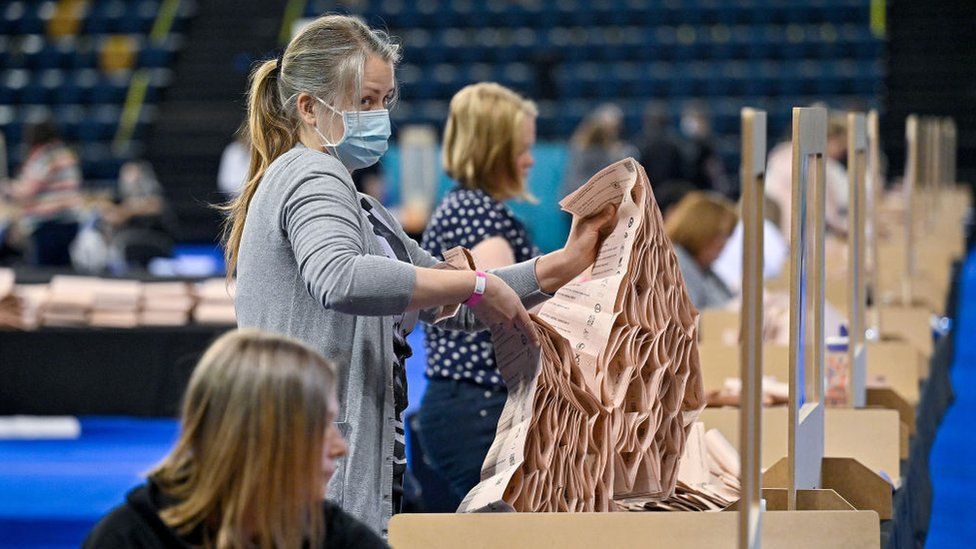 With all the results now in, the SNP have secured a fourth consecutive win in the Holyrood election, only narrowly missing out on an outright majority. Covid precautions meant the count was held over two days but now the shape of the new parliament is clear, here are the headlines:
The SNP is the biggest party at Holyrood with 64 MSPs (up one) - just one short of an overall majority.
The result is broadly similar to the 2016 vote, with the Scottish Greens making the biggest gains. The Conservatives have 31 MSPs (unchanged), Labour 22 (down two), Greens eight (up two) and the Lib Dems four (down one).
The SNP took 62 of the 73 first past-the-post constituency seats. Three seats changed hands with the SNP taking two (Ayr and Edinburgh Central) from the Tories and one (East Lothian) from Labour. But their hopes of an outright majority were dashed when the Tories held Galloway & West Dumfries and Aberdeenshire West with increased majorities.
In the regional lists the Greens gained one seat from Labour in Central Scotland and one from the Lib Dems in North East. The Tories gained one from Labour in Highlands and Islands.
The SNP success in the constituency vote meant they had fewer list MSPs in South of Scotland, with Labour and the Tories both gaining one there.
Scottish Green co-leader Lorna Slater became an MSP on the Lothian list while her fellow co-leader Patrick Harvie was re-elected on the Glasgow list
The results saw a number of ground breaking moments. The SNP's Kaukab Stewart and Pam Gosal of the Conservatives became the first women of colour to be elected to Holyrood. Labour's Pam Duncan-Glancy, who on Friday said she was delayed at the Glasgow count because staff didn't believe she was a candidate, is the first permanent wheelchair user to be elected.
The new crop of MSPs includes two former MPs and one current one - Angus Robertson (SNP), Paul Sweeney (Labour) and the Scottish Conservative leader Douglas Ross.
Democracy was also a winner with turnout hitting a record high of 63% - 10 percentage points higher than the average for a Holyrood election.
About a third of the new faces have not been MSPs before. One Scottish government minister, Paul Wheelhouse, failed to get re-elected on the South of Scotland list. And 58 parliamentarians are women, a record number at Holyrood, now making up 45% of MSPs.