Scottish election 2021: What issues are important to young voters?
By Mary McCool
BBC Scotland news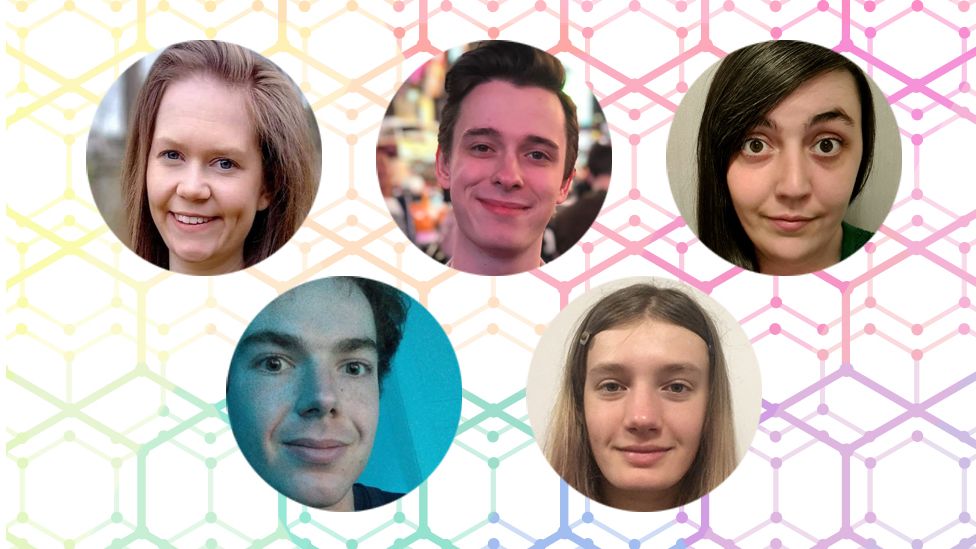 In recent years Scotland has seen a high level of political engagement among its citizens.
Almost 19 out of 20 people felt it was important to vote in Holyrood elections in 2019, an increase of 15% since 2004 - and according to Scottish government data, that surge is partly driven by young people.
Now with the pressures of the pandemic often disproportionately affecting younger age groups, it perhaps comes as no surprise that party manifestos have been littered with policies designed to restore education, improve mental health and create job opportunities for people age 16-24.
So what issues matter to young voters? The BBC spoke to five people under the age of 30 to hear what could influence their vote.
David, a second year maths and physics student, remembers being drawn to the sciences from a young age after seeing the "awe inspiring" Large Hadron Collider.
But he fears he may not secure a job in his field due to the economic uncertainty caused by the pandemic.
"I've been looking for a job as a barista," he said. "I'm not sure which sectors are going to be losing jobs and at the moment I would go for a safe option rather than putting my life on hold."
The 20-year-old said he was one of many students who had been "massively" impacted by the pandemic through isolation, a loss of education and unstable income.
But when deciding how to cast his vote, he said there was only one issue that mattered.
"It's the NHS by quite a mile," he said. "To me right now, all the other issues seem very insignificant compared to the health crisis that's looming.
"Currently I've got a nerve issue with my leg which is undiagnosed and I first spoke to a doctor in November - it's a bit stressful, I have to be honest.
"I feel like one of the lucky ones. I know someone with an eating disorder who collapsed the other day, and the mental health backlog is ridiculous."
In the midst of studying five Highers - including two foreign languages - Betty has her sights on one day working for an international organisation such as Amnesty International.
"Because I grew up in place so small, it made me want to see more of the world and meet people," she said.
With her eye on issues that affect people around the world, Betty has been struck by the devastating effects of bushfires in Australia and the exposure of disadvantaged countries to climate hazards.
She said: "Climate change affects everyone but what really gets me are the countries that suffer most are the ones that contributed the least emissions.
"Scotland could be really good in helping the climate with resources like solar panels and wind turbines.
"Improving public transport would also cut emissions by so much - where I live the bus service can be really unreliable and it makes life lot more difficult for people. "
Over the past year, Betty's main focus has been on her education - an area she would like to see significantly improved by the next parliament.
"I think young people should be a lot more involved into deciding what goes into education," she said.
"I think they should reform the curriculum and exam diet - a single exam is a really unfair way of basing results on and it puts so much stress on young people."
SCOTLAND'S ELECTION: THE BASICS
What's happening? On 6 May, people across Scotland will vote to elect 129 Members of the Scottish Parliament (MSPs). The party that wins the most seats will form the government. Find out more here.
What powers do they have? MSPs pass laws on aspects of life in Scotland such as health, education and transport - and have some powers over tax and welfare benefits.
Chelsea believes that overall, she has been fortunate during the pandemic - she lives with her mother and despite a shift to working from home, her job in outsourcing has been largely unaffected.
But she said the separation from her grandmother over the last year had been "really difficult".
"She is a major inspiration in my life and we're really close," Chelsea said. "She's in her 70s and has been out taking meals to her neighbours and checking in on them."
Having seen the meaningful effects of her grandmother's work, Chelsea has been concerned about the impact of the pandemic on older people.
She said: "At the time I would have preferred people to have been given the option to take their loved ones out of care homes.
"People in hospital were shoe-horned into care homes - it makes you feel ashamed of how it was handled."
In terms of casting her vote, key issues for Chelsea are the rebuilding of the economy and tackling Scotland's drug-related deaths - particularly in her local area.
"You walk down streets of Stirling and you see the number of shops shutting and the number of people out on the streets - it's absolutely heartbreaking.
"I'd like to stop seeing such a big focus on independence. If the pandemic has shown us anything it's that Scotland wouldn't be in a financially stable enough position to go it alone."
Since the age of 16, Neavan has lived away from home for long periods of time to study music at an advanced level and is currently at the Royal Birmingham Conservatoire.
In the last year he has been increasingly motivated around the issue of conversion therapy. A campaign to ban conversion therapy in Scotland currently has cross-party support, while the UK government has also undertaken to ban it.
"I didn't go through it myself but a high number of LGBT people do," he said. "It's almost never successful - people who go through it suffer things like eating disorders and almost no-one does it willingly."
Independence supporter Neavan said he had enjoyed his time in England, but he believed the electorate south of the border had made decisions "against the will" of Scottish people.
He said: "It's meant to be a family of nations - if it were a family of people you wouldn't have one person making all the decisions. Brexit is the most obvious one - I didn't vote for it.
"I see Scotland as a very open country and I don't think that represents the UK as a whole.
"Also, I think wherever you stand on independence there are valid arguments for or against, but I never hear any [positive] arguments for staying in the union."
When she isn't job hunting in the third sector, politics graduate Kate teaches gymnastics to children - and is looking forward to the return of grassroots sports.
"Missing the interaction with their friends has been a big thing for kids," she said. "I feel responsible in a way to make sure that they're getting a good education and that lives are good outside gymnastics."
Kate has considered this responsibility when deciding how to cast her vote. One issue she believes has been neglected in the election campaign has been the criminal justice system and how it affects children.
She said: "Children who haven't been convicted of any crime can be taken away from their support network and held on remand - I don't know what possible benefit that can have.
"Also the Black Lives Matter movement has shone a light on the justice system as whole and prompted me to look into it.
"Afro Caribbean and black people in the UK are more likely to spend more time in prison. If you feel like something is unfair, you feel a responsibility to say something about it."
Living in the north east of Scotland, Kate said she was conscious that the oil and gas sector required a transition to renewables, but was not convinced it could be phased out in 10 years.
She said: "I think renewables are really important but there is a tendency to push the debate towards electricity.
"Even if all electricity comes from renewables you still need oil and gas for making things like plastics and clothing."