Andy Wightman quits Scottish Greens over trans rights stance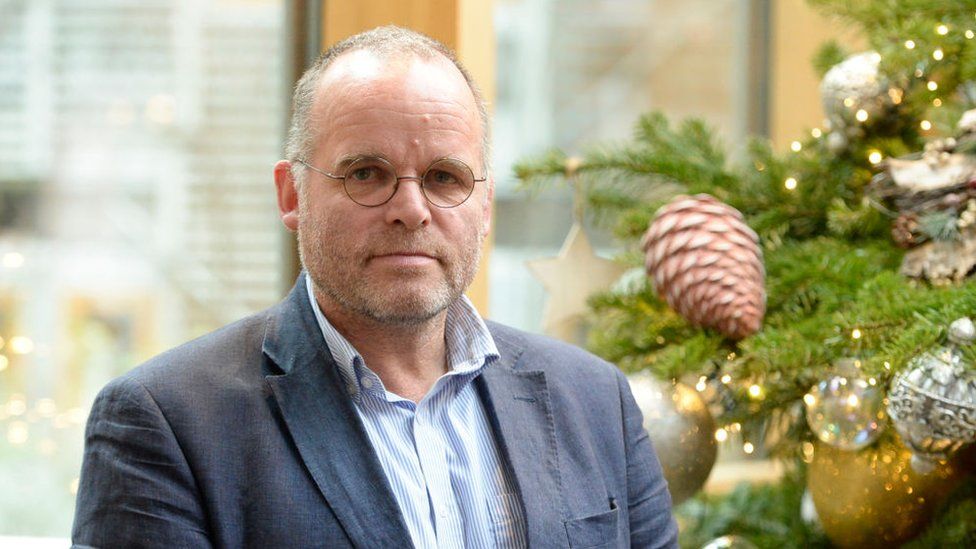 A Scottish Greens MSP has quit the party over its "alienating and provocative" stance on trans rights.
Andy Wightman said he had been threatened with possible expulsion over his concerns about the potential impact of the issue on women's rights.
And he accused the party of being "very censorious of any deviation from an agreed line".
A spokesman for the Scottish Greens said the party wished Mr Wightman well for the future.
He added: "The Scottish Greens are focused on building a greener and fairer Scotland that tackles the climate emergency, so Andy Wightman's decision not to be part of our movement anymore is a matter of deep disappointment.
"Land reform, empowering local democracy and community empowerment are core Green issues, and Andy's contribution has been very important, but the Greens remain committed to carrying on this agenda without him."
Mr Wightman is a highly-respected land reform campaigner who has been an MSP for the Lothians since 2016.
In a letter to Scottish Greens co-leaders Patrick Harvie and Lorna Slater, he said he had wanted to vote in favour of an amendment to the Forensic Medical Services (Victims of Sexual Offences) Bill in the Scottish Parliament last week.
But he said he instead voted against the amendment after it was made clear to him that he would face "complaints and disciplinary action leading to possible suspension, deselection or expulsion" if he did not do so.
The amendment will give sexual assault victims the right to choose the sex, rather than just the gender, of the medical professional who examines them.
Supporters say the change is necessary to prevent female rape victims potentially being intimately examined by trans women if they do not wish to be.
It was overwhelmingly backed by MSPs in a vote last Thursday - with only the Scottish Greens and Liberal Democrats voting against.
Mr Wightman said he had also been admonished last year for attending a public meeting in Edinburgh to hear concerns about the potential impact of gender recognition reforms on women's rights.
He described being abused at the time on social media by some trans rights activists, and apologised for the "distress" he had caused party members by attending the meeting.
In his resignation letter, Mr Wightman said he had been saddened for some time by the "intolerance shown by some party members to an open and mature dialogue" about the issue.
He added: "I understand that the Scottish Green Party has a strong commitment to equalities and trans rights.
"However, some of the language, approaches and postures of the party and its spokespeople have been provocative, alienating and confrontational for many women and men.
"It has become evident to me that the sort of open-minded public engagement I would like to see take place on this topic is incompatible with a party that has become very censorious of any deviation from an agreed line."
Mr Wightman will now sit as an independent MSP but said he remained committed to Green politics and would endeavour to "work constructively" with the party's five remaining MSPs until the election in May.
Before being elected to parliament, Mr Wightman was best known for his Who Owns Scotland? book, which attempted to set out the amount of the country's land that was held by overseas interests, the aristocracy, companies, charitable bodies and the state.
He has also campaigned for tighter restrictions to be placed on short-term holiday accommodation in Edinburgh.
And he won a a defamation case earlier this year after Scottish Wildcat Haven attempted to sue him for £750,000 over statements he made in a blog post about the company's business practices.
What is the trans rights row all about?
Controversy over the issue has centred on the Scottish government's plans to make it easier for people to change their legally-recognised gender.
The government believes the current process is intrusive and outdated, and wants to move to a "self-declaration" model which it says is needed to improve equality and help ensure transgender people are treated with dignity.
The proposals would mean applicants would no longer need to have been diagnosed with gender dysphoria - distress as a result of a difference between their biological sex and their gender identity - or have been living as their acquired gender for two years.
The government has also been considering lowering the age that a person can apply to change their legally-recognised gender from 18 to 16.
The plans, which are supported by trans rights campaigners and First Minister Nicola Sturgeon, have proved to be deeply controversial within the SNP in particular, with activists and high-profile politicians on either side of the debate regularly attacking each other on social media.
Critics of the proposals argue that allowing people to self-identify their gender could damage the legal protections given to women under the Equality Act - including the right to single-sex spaces such as changing rooms, and women-only shortlists.
A group of 15 senior SNP politicians - including MP Joanna Cherry and MSP Kate Forbes, who is now the finance secretary - signed a letter last year urging the first minister not to "rush" into "changing the definition of male and female".
The letter was in response to Ms Sturgeon saying in a speech to the UN that "some of the concerns that are expressed on the part of women and feminists are misplaced".