Coronavirus: Rishi Sunak says new economic measures 'vital' for Scotland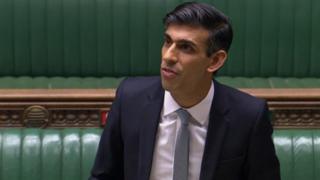 The Chancellor has said his package of measures aimed at limiting the economic impact of coronavirus are "absolutely vital" for Scotland.
Rishi Sunak said many rural areas of Scotland would particularly benefit from a cut to VAT for the hospitality and tourism sector.
And he said Scotland would now receive a total of £4.6bn in additional Barnett funding from the UK government.
The figure had been put at £3.8bn by the UK government before his statement.
The Scottish government welcomed parts of Mr Sunak's announcement, but accused him of showing a lack of ambition by not introducing the £80bn stimulus package it had called for.
Many of the measures unveiled by Mr Sunak will apply in Scotland, including the "job retention bonus" that will pay firms a £1,000 bonus for every staff member kept on for at least three months when the furlough scheme ends in October.
VAT on food, accommodation and attractions will be cut across the UK from 20% to 5% from next Wednesday.
The cut will apply to eat-in or hot takeaway food from restaurants, cafes and pubs, accommodation in hotels, B&Bs, campsites and caravan sites, attractions like cinemas, theme parks and zoos.
Mr Sunak also unveiled a scheme to give 50% off to people dining out across the UK in August.
And he announced a £2bn "kickstart" scheme to help create more jobs for young people which will cover Scotland, England and Wales.
---
Analysis by Rajdeep Sandhu, BBC Scotland political correspondent
The chancellor's speech, as expected, was all about jobs with billions of pounds to stem looming unemployment.
For a Conservative government these are big spending interventions, perhaps more natural territory for Labour or the SNP.
It's certainly no easy balancing act for a relatively new chancellor. He wants to give people hope but he certainly isn't sugar-coating it.
Despite calls to extend the furlough scheme, it was a no. An admission some jobs will never come back, shifting the focus on getting employers to hire people who have been furloughed through bonuses.
The chancellor was also keen to flash his unionist credentials early on. The UK government will be aware of a series of polls suggesting support for independence growing during the pandemic.
So the chancellor stressed the "special bond" of the union and the support people in devolved nations received.
---
However, his announcement of a temporary stamp duty holiday in England to stimulate the property market will not apply in Scotland unless the Scottish government matches the move through its equivalent Land and Buildings Transaction Tax.
The Chancellor told the Commons that the UK government remained "absolutely committed" to its goal of "levelling up in every part of the country".
He added: "I am pleased to tell the House that the sum total of Barnett funding for Scotland as a result of all the interventions through this crisis now totals £4.6bn, which is going to support similar measures in Scotland as we are providing elsewhere.
"The measures I announced today - the jobs retention bonus for furloughed employees, the Kickstart scheme, the VAT cut, the eat out to help out discount - are all incredibly significant interventions and all of them benefit the entire United Kingdom."
Mr Sunak also stressed the importance of tourism to the Scottish economy, particularly in rural and coastal areas, and said that the VAT and eating out measures would be "absolutely vital in driving the growth of Scotland going forward again".
He added: "Again, they are a reminder to everyone - we are stronger together, one United Kingdom".
The UK government says measure it has previously introduced, such as the furlough scheme, have "protected more than 620,000 jobs, thousands of businesses and paid £425m to self-employed people" in Scotland.
The Scottish government had called on the Chancellor to show "greater ambition in the level of investment in our economy" by introducing an £80bn stimulus package.
Its finance secretary, Kate Forbes, said that Mr Sunak's commitment to economic recovery "appears to be less than half of that with no apparent increase in capital infrastructure".
She added: "We called for an £80bn stimulus package to build a strong, green and inclusive economic recovery and while there are elements in this announcement to be welcomed, in particular the measures on VAT for tourism and hospitality, overall this package is a huge opportunity missed.
"It falls well short of delivering what is needed to boost the economy and protect jobs.
"There is no new capital spend, no extension to the furlough scheme for hard-hit sectors and no further support for households in financial difficulty. A half-price meal out does not help those struggling to put food on the table."
Ms Forbes made a request to be allowed to borrow £500m this year and to be given the flexibility to reallocate any unused capital funding on day-to-day spending in a letter to the Treasury two weeks ago.
She has argued that the "relatively limited" changes would "ease some of the immense pressures on our budget" caused by the coronavirus crisis.
Prime Minister Boris Johnson said at the time that he would consider the request - but there was no mention of it in the Chancellor's statement.