Coronavirus: No quarantine checks carried out on passengers arriving in Scotland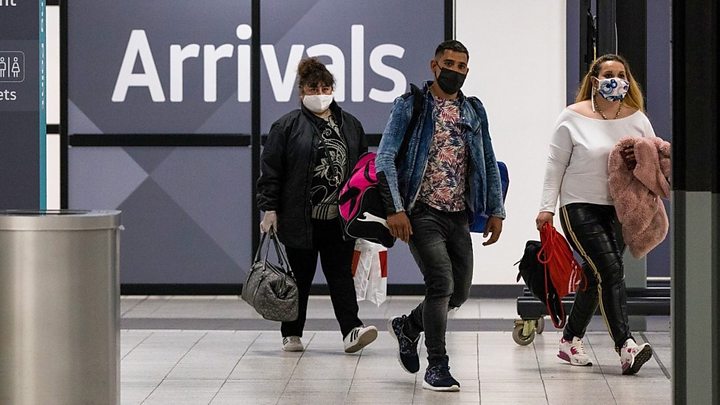 Officials have carried out no quarantine checks on visitors arriving in Scotland from overseas, the Scottish health secretary has admitted.
Jeane Freeman said staff did not have security clearance to access passenger details so they were unable to check arrivals were sticking to the rules.
However she added that the security checks were now complete and passenger checks would begin this week.
The quarantine measures have been in place for four weeks.
Under the rules introduced on 8 June to prevent the spread of coronavirus, anyone entering Scotland from abroad must isolate for two weeks or face a £480 fine.
Speaking to the BBC's Politics Scotland, Ms Freeman explained that Public Health Scotland officials needed access to the UK government's Home Office system which holds information about new arrivals.
"Our officials had to get that necessary security clearance in order to be able to access that data that then allows the follow up calls to be made," she said.
"That's now thankfully resolved and those calls begin this week."
There was no exact date yet for when the calls would begin but she said it would "definitely [be] this week".
Asked whether Scotland was the only part of the UK where no checks had been made Ms Freeman responded: "I don't know about Northern Ireland or Wales.
"I know Public Health England have been able to do that, but they are part of the Home Office system. We were not part of the Home Office system."
The issue was first reported in The Sunday Post.
---
'I was surprised by how normal travel seemed'
Euan Lynch returned to Scotland last week. He has not been contacted to check if he is quarantining.
Mr Lynch told BBC Scotland he was surprised by how normal his journey home was - even in the airport, he said the only difference was passengers wore masks and many of the restaurants were closed.
He flew from Madrid to Heathrow with British Airways, but said the flight was quite full and passengers could not be spread out.
"Most people were sitting side by side - there was no attempt to try to split people up", he said.
"They told people to get off a few rows at a time and to maintain 2m distance while on the aisle.
"I thought that was sort of contradictory considering we were sitting side by side on the flight."
He said on arrival in the UK he expected a temperature check but that wasn't implemented.
"I did have to fill in locator form, and I assumed they'd contact me in weeks to follow. As of yet I haven't received any contact to check up on me."
He said his experience flying from Heathrow to Edinburgh was similar.
Mr Lynch said it was "assumed knowledge" that arrivals would have to quarantine or 14 days - there were notices in the airport.
---
Public Health England said they had been contacting about one in five arrivals to England and Northern Ireland to ask them if they were self-isolating.
They said the majority confirmed that they were.
Although they stressed there had been a high level of compliance, they added that if they cannot reach an arrival after four days then their details are passed to the police and Home Office, who will determine if further action is required.
In Wales, public health officials are sent information from Public Health England. Welsh officials contact everyone who has entered the country and asks them to isolate. However, officials do not enforce this or check up on those who are supposed to be quarantining.
Holiday lockdowns
The health secretary was also asked whether holiday-makers would be quarantined if there was a local outbreak while they were away from home.
She said: "It depends on what our infection prevention people tell us is the right things to do."
The Scottish Conservative leader, Jackson Carlaw, said the lack of quarantine checks were the "latest testing and checking failure".
He added: "We will not be able to exit lockdown safely until the SNP gets its act together on testing. From care homes to NHS workers, the whole testing scheme has been a mess."
The Scottish Liberal Democrats' health spokesman Alex Cole-Hamilton urged the political parties leading Scotland and the UK to "take a hard look at themselves and do better".
"The shoddy and deteriorating relationship between the SNP and Conservatives is becoming an issue that is endangering our health and the control of this virus."