Nicola Sturgeon says lockdown likely to continue 'for some weeks to come'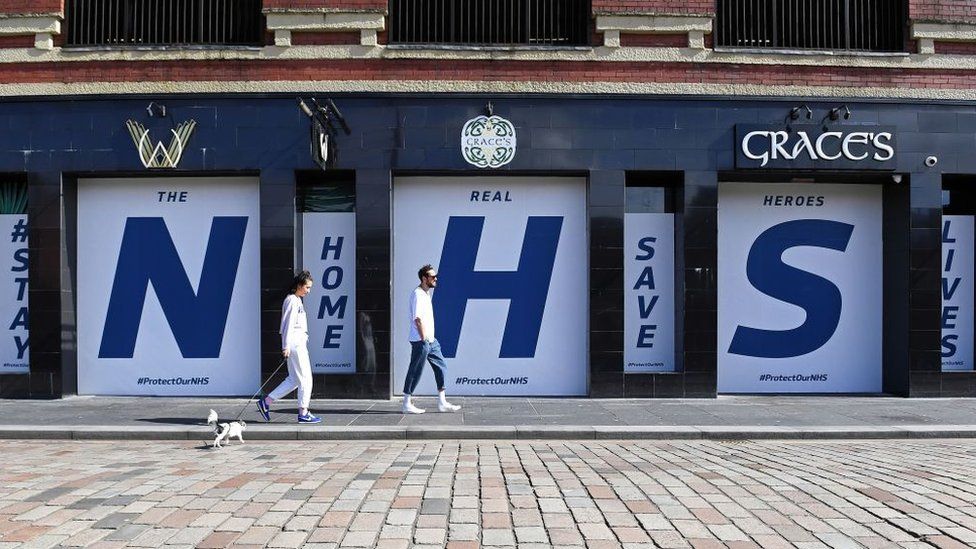 Scotland's coronavirus lockdown is likely to continue "for some weeks to come", Nicola Sturgeon has said.
The first minister said there was "no prospect" of the measures being lifted in the coming days.
She said it was important not to lift restrictions "prematurely", in a way which could see the virus spread "out of control" and overwhelm the NHS.
A further 81 people in Scotland have died after contracting Covid-19, bringing the latest total to 447.
Ms Sturgeon said 4,957 people had now tested positive for the virus, up from 4,565 on Wednesday, but stressed these figures would be an under-estimate.
She also said there are 1,781 patients in Scotland's hospitals with Covid-19, 212 of whom are in intensive care.
The UK-wide lockdown, which was introduced on 23 March to slow the spread of the virus and reduce pressure on health services, is required to be reviewed by ministers every 21 days.
This was discussed at a meeting of the emergency Cobra committee on Thursday afternoon, but Ms Sturgeon there was "no likelihood or prospect of these measures being lifted after the Easter weekend".
She said the restrictions would need to be lifted in an "orderly" way when the time comes, but the "evidence is not there" yet to decide how long the lockdown should last.
"I don't want these measures to be in place for a single minute longer than they need to be," she said.
"But I don't want us to come out of it prematurely in a way that will do damage or see the virus spread out of control, that would see the NHS potentially overwhelmed and see more lives lost."
Ms Sturgeon said it was "right and proper" that we "stick with it for as long as necessary", and stressed that social distancing rules were "vital".
"It will seem even harder over this Easter holiday weekend, especially for families with children and indeed for the children themselves, and for older people who would normally be spending time with their grandchildren," she said.
"Please stay in touch with family, friends and loved ones in whatever alternative way best works for you.
"Reach out to and look out for people even as you stay physically apart from them, but please do follow the rules and stay at home over Easter."
The daily figures announced by Ms Sturgeon reflect deaths in hospitals where patients have tested positive for the virus.
Wider figures, including other settings like care homes and cases where coronavirus was a suspected or presumed cause of death, are now being released weekly every Wednesday.
The first minister's daily press conference on Thursday was replaced by a question session with opposition politicians, hosted over a live video stream.
Sittings at Holyrood have been cut back due to the coronavirus lockdown and the parliament is currently in recess, but party leaders were able to question Ms Sturgeon on the government's handling of the crisis over a new "virtual working" system. During the session:
Scottish Tory leader Jackson Carlaw asked about personal protective equipment (PPE) for frontline staff. The first minster said it was "hugely important" to "quickly and effectively resolve any problems with distribution"
Labour's Richard Leonard asked about testing, with Ms Sturgeon saying capacity in Scotland should reach 3,500 tests per day by the end of April
Green co-leader Patrick Harvie asked about Do Not Resuscitate orders, with the first minister stressing that "nobody should receive a DNR form out of the blue" or feel under any pressure to complete one
Lib Dem Willie Rennie asked about mental health support for health staff and the wider population. Ms Sturgeon said this was "very high on our priority list", with fears there will be a "mental health legacy" to the lockdown.
Presiding Officer Ken Macintosh said it was "crucial" that MSPs were able to scrutinise ministers during lockdown.
Thursday's session only featured party leaders, but Mr Macintosh said this could be expanded to include other MSPs in future weeks.
'Virtual' parliament breaks new ground
A piece of Scottish history was made this lunchtime as party leaders put their questions to the first minister through an online meeting for the very first time, writes BBC Scotland political correspondent Andrew Kerr.
Watching them in their video-conference boxes, it had the slight air of a disaster movie - the nation's leaders speaking to us from their bunkers.
Presiding Officer Ken Macintosh chaired the session from his regional office in Thornliebank, the plants behind him providing a rather different backdrop to the panelling in the Holyrood chamber.
Nicola Sturgeon took part from the Scottish government's briefing room, familiar from the daily news conferences, while the others asked their questions from their constituency offices or their homes.
This wasn't an official sitting of parliament, but in these emergency circumstances, Holyrood Online seemed to work pretty effectively.
Backbench MSPs will now want to make sure they have a chance to make their voices heard as our MSPs continue to make history with this "virtual" Scottish Parliament.