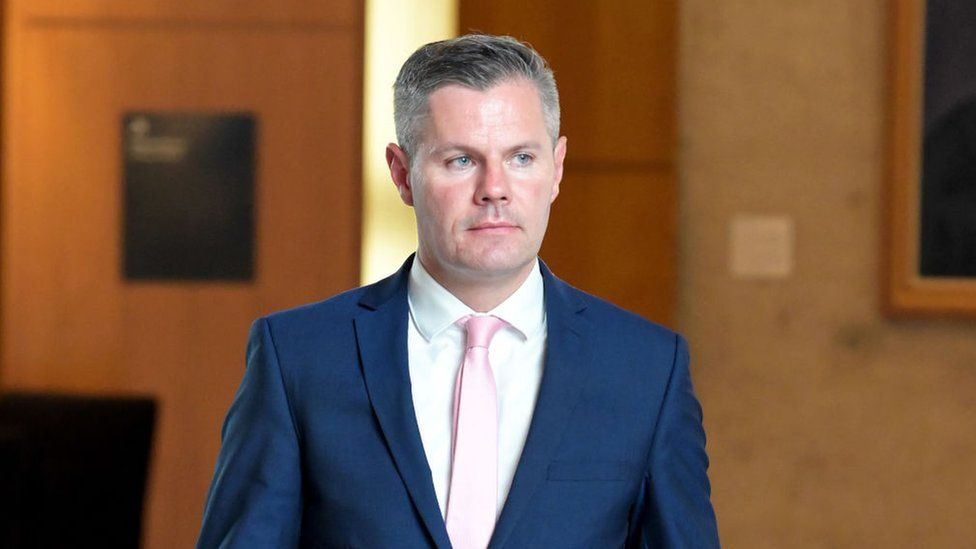 This is a calamity, without caveat, for Derek Mackay, for the SNP, for the first minister and for the collective Scottish government.
One must also express sympathy for the youth who apparently received unwarranted and unwanted attention, together with his family.
To recap, the Sun newspaper has reported that Mr Mackay allegedly sent some 270 messages to a 16-year-old boy. Among those contacts, he is said to have called him "cute".
On the face of it, this is a personal tragedy for the minister, brought about by behaviour which he concedes was foolish. Others might use blunter terms.
However, this is also senior level politics - and, what is more, at a time of vulnerability and disquiet within the SNP and the Scottish government.
Not only was Derek Mackay a key member of the Scottish cabinet, with responsibility for finance and the economy, he had been tipped as a possible successor to Nicola Sturgeon.
To be amply clear, there is no such vacancy at present.
It goes further, in terms of speculation. The budget statement will now be delivered by Kate Forbes, the minister for public finance.
With neat, if tortuous, symmetry, Ms Forbes had also been tipped as a possible deputy to Mr Mackay, should he become FM. Should there be a vacancy. Which (see above) there isn't.
All of this comes amid an amalgam of challenges for the Scottish government and the SNP.
Challenges over public policy, most notably in education and the NHS. Internal disquiet over how to proceed with indyref2. And a pending High Court trial.
Final thoughts on Derek Mackay. In his earlier incarnations as a minister, Mr Mackay seemed somewhat unsure, on occasion.
Privately, he sometimes seemed to doubt his own intellectual or, more precisely, oratorical capacity.
He had to summon courage, to build a profile which combined drollery with significant attention to detail. He was rated at Holyrood.
None of that now matters. All changed, changed utterly. But there is simply nothing beautiful about this story. Quite a lot, however, that is terrible.
In her brief statement at Holyrood, Nicola Sturgeon confirmed that Derek Mackay has been suspended from the SNP and from the party's parliamentary group. This pending an investigation.
To be quite clear, she cannot expel him from Holyrood, she cannot remove him as an MSP. For very good reason, elected members are responsible to their voters, not to the opinion of party leaders.
However, Ms Sturgeon made no attempt whatsoever to exculpate her former colleague, nor to play down in any way his behaviour. She simply stressed that due process must be followed.
Opposition leaders say, rather bluntly, that Mr Mackay must now stand down as a member of the Scottish Parliament.
In Holyrood, after the FM's opening statement, Jackson Carlaw of the Tories pursued her rather effectively with deliberately precise questions.
Was the behaviour tantamount to grooming, as defined? Had Ms Sturgeon contacted the boy or his family?
Ms Sturgeon declined to speculate as to the first, while again refusing to offer Mr Mackay any support of any kind. On the second point, she said she did not know the identity of the individual, but would be willing to speak to the family, if approached.
Labour's Richard Leonard also got to the point, in two ways. Firstly, he excoriated Mr Mackay's actions, labelling them "predatory" - a choice of language which deliberately sidestepped the issue of possible criminal culpability.
But, then, he turned from this issue to the wider responsibilities of the first minister, challenging her on mental health treatment in NHS Tayside.
This may sound like a handbrake turn but, on the day, it was potent. In essence, he contrived to raise the topic of the moment, while reminding the FM of her broader remit.
With a little less nuance, Alison Johnstone of the Greens also raised the Mackay controversy plus the NHS; in her case, A&E waiting times.
Ms Sturgeon looked grimly determined at all times; her mind occupied with the resignation of her finance secretary, but her time taken up, quite rightly, by addressing concerns over ministerial actions. She looked sombre, but still engaged in the task.
And the SNP group? I've spoken to several MSPs. Reactions range from astonishment to shock to embarrassment to anxiety to sheer fury.