Protests held over Parliament suspension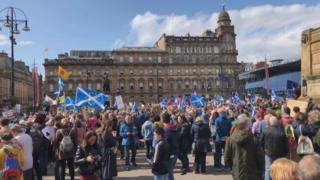 Protests have taken place across the country to oppose Boris Johnson's plan to shut down the UK Parliament.
The UK-wide movement, known as "Stop the Coup", said 32 protests were held on Saturday.
In Scotland, demonstrations took place in Lerwick, Kirkwall, Inverness, Aberdeen, Dundee, Edinburgh, and Glasgow, addressed by SNP, Labour and Green politicians.
Labour leader Jeremy Corbyn spoke at the Glasgow rally.
He told the crowd: "Demonstrations are taking place everywhere because people are angered and outraged about what is happening.
"Angered that the government and a prime minister elected by 93,000 members of the Tory party is trying to hijack the needs, aims and aspirations of 65 million people.
"Well think on, Boris, it's not on and we're not having it."
In London, thousands joined the demonstration, bringing Whitehall to a standstill.
It follows multiple protests in London, Edinburgh and other cities on Wednesday, which took place within hours of Mr Johnson announcing his plans.
The wave of protests is in objection to the prime minister's plan to suspend Parliament - a process known as proroguing - for five weeks, ahead of a Queen's Speech on 14 October.
The UK is due to leave the EU on 31 October, and critics say the move is designed to stop MPs preventing a no-deal Brexit.
Michael Chessum, national organiser for Another Europe is Possible - the group behind the protests - said: "We are witnessing the birth of a huge movement to fight for democracy and oppose Boris' Brexit agenda.
"It's uniting. Many people are just outraged at Johnson's attempts to shut down Parliament. The crowds are angry, energetic and hopeful, and are taking matters into their own hands.
"We aren't here to ask Boris nicely, we're here to force him to back down. That means civil disobedience and being willing to disrupt things."
The Jo Cox Foundation, which was set up in the wake of the Labour MP's murder in 2016, warned that anger over Brexit "should not spill over into something more dangerous".
It said: "People have an absolute right to protest, whether in Parliament, on demonstrations or in the media.
"We believe strongly in freedom of speech. But we would urge everybody to avoid saying or doing anything that could incite or lead to violence."
Further mass demonstrations, organised by the People's Assembly Against Austerity, are planned to take place on Tuesday to coincide with MPs returning to Westminster.
And the annual Westminster Dog of the Year competition, due to take place on Thursday, has been cancelled over safety concerns of the dogs and MPs taking part.
Chancellor Sajid Javid, speaking on BBC Radio 4's Today programme, defended the prime minister's decision to suspend Parliament.
He said it was normal and appropriate for Parliament to go into recess at this time of year.