Tory leadership: Boris Johnson backtracks over Scottish funding
By Glenn Campbell
BBC political correspondent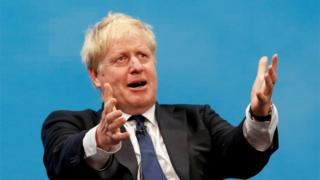 Boris Johnson's leadership team have promised "no change" to how Scottish government funding is calculated if he becomes prime minister.
Jeremy Hunt had already pledged to "maintain" what's known as the Barnett formula, and had challenged his rival to match his commitment.
Mr Johnson has long criticised the formula.
At one point he claimed it amounted to a multi-billion pound "present" from English taxpayers to Scotland.
One Hunt supporter, John Lamont MP, welcomed what he said appeared to be a "U-turn" by Mr Johnson.
Mr Hunt and Mr Johnson are competing against each other to become the next Conservative leader.
The Barnett formula is used to share funds across the UK with allocations for Scotland, Wales and Northern Ireland linked to their populations and any changes in spending in areas such as health and education in England.
It's controversial because levels of public spending per head are higher in Northern Ireland, Scotland and Wales than they are in England.
Mr Johnson, a former London mayor, has been a persistent critic. In 2014, he said the then prime minister, David Cameron, had made a "slightly reckless promise" to retain it.
He had previously described the system as being of "amazing political antiquity" and producing "inequitable outcomes".
The SNP were among those expecting Boris Johnson to review funding arrangements for the devolved governments if he became prime minister.
MSP Tom Arthur said: "With the hard right-wing of the Tory party threatening to axe the Barnett formula and slaughter Scotland's public services it's time to take our future into our own hands."
But Boris Johnson's campaign has indicated that the system will stay the same if he replaces Theresa May in Number 10.
Funding arragements
A campaign source said: "There'll be no change to the Barnett formula if Boris wins the leadership of the Conservative and Unionist Party and becomes prime minister.
"For the SNP to suggest otherwise shows a hitherto unseen level of desperation and underlines just how much they would fear a Conservative and Unionist Party led by Boris."
The Hunt campaign had also questioned Mr Johnson's commitment to existing funding arrangements.
Conservative MP John Lamont MP, who is a prominent supporter of Mr Hunt, said: "I'm pleased that despite what Mr Johnson has said in the past about reviewing the special funding arrangements for Scotland, he has now apparently u-turned on this policy.
"Jeremy Hunt has always been clear that he supports the continuation of the Barnett formula, no if, buts or U-turns."
Compare the candidates' policies
Select a topic...
...and a candidate
Brexit
Jeremy Hunt




Foreign Secretary

- Wants to leave with a deal, but says he would back a no-deal Brexit with "a heavy heart" if necessary. - Will create a new negotiating team to produce an "alternative exit deal" to Theresa May's plan, and engage with EU leaders over August. - Will present a provisional no-deal Brexit budget in early September and decide by the end of the month if there is a "realistic chance" of a new deal. - If not, will abandon talks and focus on no deal preparations. - Pledges to cover the cost of tariffs imposed on the exports of the farming and fishing industries in the case of a no-deal Brexit.
Boris Johnson




Backbencher

- Vows to leave the EU by the 31 October deadline "come what may", but claims the chance of a no-deal Brexit is a "million to one". - Wants to negotiate a new deal, which will include replacing the Irish backstop with alternative arrangements. - Will not hand over the £39bn divorce settlement with the EU until the UK gets a new deal. - If a new deal is not agreed, will ask the EU for a "standstill period" to negotiate a free trade deal. - Argues a provision under the General Agreement on Tariffs and Trade, known as GATT 24, could be used for the UK to avoid tariffs for the next 10 years, but admits it would need EU sign off. - Promises to support the rural community in a no-deal Brexit scenario with "price support" and "efficiency payments".
Immigration
Jeremy Hunt




Foreign Secretary

- Calls for flexibility on immigration, saying skilled workers should be prioritised. - Wants to review policy of stopping migrants with less than £30,000 coming to the UK to work. - Pledges to scrap the target to reduce net migration to below 100,000.
Boris Johnson




Backbencher

- Wants a new Australian-style points-based system, considering factors such as whether an immigrant has a firm job offer and their ability to speak English. - Will get Migration Advisory Committee to examine the plan. - Wants to block the ability for immigrants to claim benefits immediately after the arrive in the UK. - Opposes the net migration target of under 100,000 a year.
Tax
Jeremy Hunt




Foreign Secretary

- As an entrepreneur, he wants to turn Britain into "the next Silicon Valley... a hub of innovation". - Wants to cut corporation tax to 12.5%. - Wants to raise the point at which workers start paying National Insurance to at least £12,000 a year. - Pledges to scrap business rates for 90% of high street shops. - Will increase the tax-free annual investment allowance from £1m to £5m.
Boris Johnson




Backbencher

- Pledges to raise the tax threshold for the higher rate to £80,000 (rather than the current £50,000). - Wants to raise the point at which workers start paying income tax. - Will review "unhealthy food taxes" such as sugar tax on soft drinks.
Spending
Jeremy Hunt




Foreign Secretary

- Wants to increase defence spending by £15bn over the next five years. - Promises to keep free TV licenses for the over-75s. - Wants to build 1.5 million homes and create a "right to own" scheme for young people. - Backs both HS2 and a third runway at Heathrow.
Boris Johnson




Backbencher

- Pledges more money for public sector workers and wants to increase the National Living Wage. - Will "find the money" to recruit an extra 20,000 police officers by 2022. - Promises to maintain spending 0.7% of GDP on Foreign Aid. - Wants to review the HS2 train project. - Pledges full fibre broadband in every home by 2025.
Health and social care
Jeremy Hunt




Foreign Secretary

- Promises more funding for social care. - Wants to introduce an opt out insurance system to fund future care, similar to the way pensions work. - Wants to target manufacturers of unhealthy foods to make them cut the sugar content. - Mental health support to be offered in every school and a crackdown on social media companies that fail to regulate their content.
Boris Johnson




Backbencher

- Rules out a pay-for-access NHS, saying it would remain "free to everybody at the point of use" under his leadership. - Has previously said money spent on the EU could be put into the NHS. - Plans to give public sector workers a "fair" pay rise, according to supporter Health Secretary Matt Hancock. - Says more should be spent on social care, according to a cross-party "national consensus".
Education
Jeremy Hunt




Foreign Secretary

- Pledges to write off tuition fees for young entrepreneurs who start a new business and employ more than 10 people for five years. - Wants to reduce interest rates on student debt repayments. - Long-term plan to provide more funding for the teaching profession. - Wants to abolish illiteracy.
Boris Johnson




Backbencher

- Wants to raise per-pupil spending in primary and secondary schools, with a minimum of £5,000 for each student in the latter. - Wants to look at lowering the interest rate on student debts.