Review ordered into 'blue water' school concerns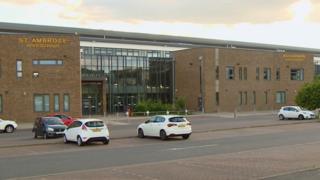 An immediate review is to be carried out into health and safety at two schools in Coatbridge following reports of blue water and fears of chemical contamination.
The Scottish government said the move was aimed at "assuring parents, pupils and staff that the shared Buchanan High and St Ambrose High campus is safe".
The site was previously used to store industrial waste.
This included lead and arsenic - sparking contamination concerns.
North Lanarkshire Council and NHS Lanarkshire say there is no evidence of any serious illness linked to the schools or campus.
But at a heated public meeting last week, a health official was booed and met with cries of "liar" as he said that there was "no significant risk to health" from attending the schools.
The NASUWT union later announced that the 12 staff members it represents at Buchanan High - an additional support needs school catering for about 100 pupils - will go on strike next week over health concerns.
The Scottish government said on Wednesday it would now begin an "immediate, independent and impartial review" of the concerns that have been raised.
It said the review, which was agreed with the council and health board, would be completed before the next school year begins in August.
Deputy First Minister John Swinney said the council and NHS Lanarkshire had already done "extensive work" in an effort to address the concerns of the local community.
He added: "However in light of continuing concerns being raised, ministers have agreed with North Lanarkshire Council and NHS Lanarkshire to immediately commission an impartial, independent review.
"This will assess existing evidence and determine if more needs to be done to further mitigate any concerns of pupils, their parents and staff and provide further reassurance to the local community."
'My son is not safe'
Lisa McCormick has a 14-year-old son, Kian, who until two weeks ago was a pupil at St Ambrose. Her daughter Orla is in P7 and was due to start at the school in August.
Both have now been withdrawn from the Coatbridge campus.
Lisa's concerns grew amid reports about teachers from Buchanan High being diagnosed with cancer.
She researched the school site as well as the industry that was there beforehand and said she became "more and more unsettled". She said if she had been aware earlier, she would never have sent Kian to the school.
Lisa, from Baillieston, said: "From the minute he walks into the school yards in the morning, he is not safe.
"I'm not just worried about the current impact. I'm quite lucky that Kian hasn't been suffering anything like the symptoms which all the children are complaining about.
"What I'm worried about is the future and what this can do to his health."
Lisa said the government decision to order a review was "amazing" news. She said: "I'm very emotional - it's just what I've been wanting."
'Tinged with fear'
David removed his two children from the campus several weeks ago. He welcomed the decision to carry out a review into health and safety fears.
He said: "I have to commend the Scottish government and our local MPs because they have been lobbying on our behalf as worried parents.
"The only thing is, it's tinged with a little bit of fear because I really worry now - what are they going to find?"
The council has created a leaflet to provide further information and reassurance, which can be downloaded from its website and which will also be delivered to all parents and carers this week.
The review has been welcomed by the EIS teaching union, which has previously accused North Lanarkshire Council of doing "far too little, far too late" to address the concerns.
What has sparked the review?
The campus, which also includes the Townhead Road community centre, opened in 2012 on a site that was used as landfill for lead, arsenic and other industrial waste between 1945 and 1972.
In March of last year, bottled water was used at the high schools after blue water was discovered coming from pipes, with tests later revealing higher than recommended levels of copper.
Officials said this was due to corrosion, but insisted there was no health risk. Copper piping at the campus has since been replaced with plastic pipes.
Fears about the safety of the site came to a head in recent weeks after it emerged that four former or current members of staff at Buchanan High had received treatment for cancer.
However, the council and health board say specialist doctors have confirmed that no incidence of cancer - or any other serious illness - was caused by the schools or the site on which they were built.
And they say that all of the evidence shows that the schools and the wider campus are safe.