Two MSPs quit Scottish Labour front bench team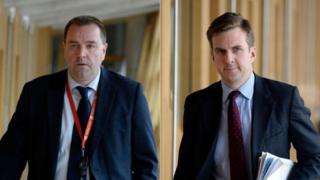 Two MSPs have quit Scottish Labour's front bench team with the party in turmoil after the European elections.
Neil Findlay quit as Brexit spokesman and also said he would step down from Holyrood at the 2021 election.
He insisted he had made the decision in March, but hit out at "eternal internal fighting" and a "toxic culture of leaks and briefings" by some MPs and MSPs.
Daniel Johnson later resigned as party justice spokesman, criticising Labour's "current direction and leadership".
Scottish leader Richard Leonard told reporters he was "prepared to take the flak for what was a poor result" in the European elections, with Labour finishing in fifth place with less than 10% of the vote.
But he insisted that he would not be resigning, urging the party to "come together to build a way forward".
There had been calls from some in the party to examine what went wrong with the campaign, which was organised by Mr Findlay.
Johanna Baxter, a member of the Scottish party's executive committee, said the result was "a failure of leadership on the biggest issue facing our country for generations".
On Monday, Mr Leonard said he was "humbled by the scale of the defeat", and gave his backing to holding another referendum on Brexit.
A party spokeswoman later confirmed that a policy change will be voted on when Labour's Scottish executive committee meets on Saturday 8 June.
In his resignation letter, Mr Findlay, who has previously argued for a federal UK, said Labour needed a "clear and easily understood position on the constitution".
He told BBC Scotland that the party was "caught between two nationalisms", the "Union Jack nationalism of the Tories and the Saltire nationalism of the SNP", saying it needs "an offer that means something to people".
However he insisted that "I'm not quitting because of the European election", saying he had been considering his position for months and had made up his mind in March.
He said it had been "an enormous privilege" to serve the Scottish Labour Party as a councillor and an MSP, and said he would continue to work "hard and diligently" until the 2021 election.
Mr Findlay said he believed the party needed to "end the eternal internal fighting within our party and the toxic culture of leaks and briefings that come from some within the Scottish and UK parliamentary groups".
Later, in an interview on BBC Scotland's The Nine he reiterated his support for Scottish Labour leader Richard Leonard.
"I think he deserves loyalty from those people who, in my opinion, have continually undermined his leadership from the very outset," he said.
"There should be people coming together to support him, so we rebuild the Scottish Labour Party."
Mr Johnson, by contrast, did link his resignation as justice spokesman specifically to the European election results, noting that the party had finished sixth in Edinburgh, the city he represents.
In his letter to Mr Leonard, he said: "My constituents are clear not only that we must have another referendum, but that we must make every effort to ensure the UK remains a member of the EU. This is a view that I share.
"Quite simply, I do not feel I can represent my constituents effectively unless I can articulate and represent this view. I do not believe that I can do this from the front bench under the current direction and leadership of the party."
'Look outward'
After a lengthy meeting of the MSP group, Mr Leonard told reporters that he would not be resigning from his post.
He said there was "a determination in the group to find a constructive way forward" after the "incredibly bad result", which saw Labour lose both of its Scottish MEPs.
The leader said he was "very sorry" that his "friend" Mr Findlay was stepping down, and praised his "outstanding" work as an MSP.
In his reply to Mr Findlay's resignation letter, he said: "I agree with you very much that our party will only advance when we decisively look outward to the public rather than in on ourselves, and I am pleased that you will be using your remaining time here to build the movement that will help us achieve this objective."
A second meeting of the MSP group took place after the resignation of Daniel Johnson.
BBC Scotland political correspondent David Wallace Lockhart said he understood Mr Leonard reassured them he would back a second Brexit referendum, and would actively campaign for a Remain vote.
The Scottish Conservatives said that "people who once voted Labour must be wondering what on earth is going on", with MSP Annie Wells saying: "Scottish Labour has once again come out of an election and decided to form a circular firing squad."