Theresa May: 'Voters want Brexit to be resolved'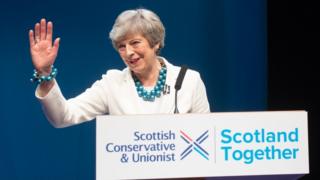 The prime minister has said voters want the Brexit issue resolved so the country can "move on".
Theresa May was speaking at the Scottish Conservative conference as she faced renewed calls to quit.
The deadlock over her Brexit deal has been blamed for the Conservatives losing more than 1,000 seats in English council elections.
But Mrs May insisted that she remains determined to deliver a deal that will ensure the UK has a "bright future".
The backlash against the two main Westminster parties over the Brexit deadlock has also seen Labour lose more 100 seats.
But the Liberal Democrats and Greens, who both back another referendum on Brexit, have made big gains.
Talks between the Conservatives and Labour aimed at finding a way forward on Brexit started a month ago and are ongoing - although it is not clear how much progress has been made, and both parties remain deeply divided over the best way forward.
Some Conservative councillors have openly blamed Mrs May for their election - with one council leader who lost his majority calling on her to "consider her position".
In her conference speech, Mrs May told delegates that all 13 Scottish Conservative MPs had backed her Brexit deal when parliament voted on it in March.
She added: "If others had followed-suit, we would be leaving the EU on 22 May. But they did not, and we have had to face up to that fact.
"We have had to reach out to the official opposition to secure cross-party support for a deal. That work continues with one clear aim - to get a deal over the line in parliament.
"Across the UK, people want to see the issue of Brexit resolved and for our country to move forward. That is our goal and it is one we are determined to deliver."
'Old fashioned belief'
Mrs May also said politicians calling for "re-runs" of the Brexit or independence referendums should instead "accept the decision of the people".
She went on to claim that this "old fashioned belief" was a major difference between her and Scotland's first minister, Nicola Sturgeon, who wants to hold a second independence referendum in the next two years.
The UK government has already ruled out granting the consent that Ms Sturgeon says would be needed to ensure a referendum was legal.
Mrs May said Ms Sturgeon wants to "re-run the independence referendum because she did not like the decision of the people of Scotland" and to "re-run the EU referendum because she did not like the decision of the people of the UK".
The prime minister added: "She saw Brexit as an opportunity to further her party's obsession with one thing and one thing only - independence.
"Just imagine if Scotland had a government that put as much energy into improving Scotland's hospitals as the SNP put into chasing independence.
"A government as focused on boosting Scotland's economy as the SNP is on internal debates about the hypothetical currency of an independent Scotland.
"Or a first minister who actually lived up to her promises to restore Scotland's education system, instead of letting its standing slip in the international rankings."
Mrs May also used her speech to announce that the UK government was backing plans to create an underwater engineering base in Aberdeen to boost the oil and gas industries.
It is hoped the creation of the underwater hub will build on Scotland's expertise in subsea robotics, remotely-operated vessels and help the oil and gas sector diversify away from fossil fuels.
The two-day conference will hear from Scottish Conservative leader Ruth Davidson on Saturday in what will be her first speech since returning from maternity leave after the birth of her son in October.
Speaking ahead of the conference, Ms Davidson insisted that Mrs May was not to blame for the Brexit deadlock as she had done her job by negotiating a deal with the other 27 EU members.
She added: "I think even her harshest critics would have accepted that Prime Minister May has worked exceptionally hard with an almost impossible job.
"There is competing views on what Brexit means within all of the political parties out there, so it's not just a Tory issue, although I'm not covering over the cracks and there are definitely different views within the Conservatives.
"I think the frustration for voters is they've seen vote after vote after vote in the House of Commons, all of which showing what there isn't a majority for, but none of which is showing what there is a majority for.
"And the frustration is they see the voices that are getting louder are the ones at the edges."
Ms Davidson, who backed Remain ahead of the EU referendum, said she hoped the local government elections would "really focus minds" among the negotiating teams so they could reach an agreement that could get through the House of Commons.
But she said another referendum on Brexit would not be helpful to the current political situation - and could instead inflame it further.
Ms Davidson has been tipped as a future leader of the UK Conservative Party, but has previously ruled out ever taking on the job - saying that her ambition is instead to replace Nicola Sturgeon as first minister of Scotland.
And she said she would not be using her first day back from maternity leave to "lay down the law" on where Mrs May should give ground in the Brexit talks.