MSPs' concerns new hospitals not fit to prevent infection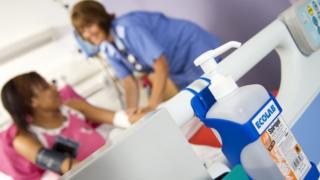 MSPs have raised concerns that Scotland's hospitals are not being built to a high enough standard to tackle infections.
Holyrood's health committee set up an inquiry following a series of issues with infections at a Scottish hospital.
It has written to Health Secretary Jeane Freeman noting concerns about cleaning, maintenance and testing.
The MSPs also heard evidence infection control experts were "sidelined" in the design of new hospitals.
Ms Freeman has commissioned a review into infections in Glasgow and what can be learned across the NHS as a whole and the Scottish government insists "robust measures" are in place across the country to tackle infections.
But convener Lewis Macdonald said there does not appear to be a "proactive approach" to the problem.
Speaking to Radio Scotland's Good Morning Scotland, he said: "We have seen figures from Audit Scotland saying the total backlog of maintenance across Scotland's hospitals is approaching £900m.
"That includes hundreds of outstanding maintenance jobs at the Queen Elizabeth University Hospital alone and that's only four years old so there are questions as to whether these newly-built hospitals are being built with the highest standards incorporated."
He said "tough questions" had to be asked about the systems of management across the whole country, rather than at individual hospitals.
"We have bodies dealing with health facilities, with health protection, with healthcare improvement - but the overall responsibility for ensuring infections don't arise appears to lie often with the local board."
'Not fit for purpose'
In his 11-page letter to the health secretary, Mr Macdonald said: "One of the anonymous submissions we received stated that infection control personnel were either sidelined during design and planning of health facilities or advice was circumvented due to ignorance, time and resource implications.
He added the committee had been told "inadequate ventilation systems have been installed in new-build hospitals" which are "not fit for purpose for the specialist patient groups they are intended for, e.g. bone transplant and haematology wards".
The health committee established its inquiry into "health hazards in the healthcare environment" following a series of incidents and infections at the Queen Elizabeth University Hospital (QEUH) in Glasgow.
The committee said it was concerned that problems only come to light when patients actually contract infections, questioning whether routine testing of water and ventilation systems takes place.
It said it had "been unable to glean" whether there was a "proactive approach" for testing for anything other than legionella.
Citing concerns about a backlog of 300 maintenance jobs outstanding at QEUH, the committee called for assurances that health boards were giving this the priority and funding it needed.
And members said they had "heard concerns about the adequacy of cleaning in Scottish hospitals" from witnesses.
The government has announced an independent external review of the infections at the QEUH and what wider lessons could be learned for infection control across the NHS.
A Scottish government spokesman said: "The recent infection incidents have had a devastating impact on the families involved and we sympathise with all those affected. That's why we are clear that all health boards must make infection prevention and control an absolute priority each and every day.
"There are robust measures in place across the NHS to prevent infections and other harms, and there have been substantial improvements made over the last decade in terms of a reduction in overall hospital infection rates across Scotland.
"Health Protection Scotland has developed national infection prevention and control policies, including mechanisms for escalation and management of outbreaks.
"They work in partnership with Health Facilities Scotland to ensure that good infection prevention and control is built into the design of new and existing healthcare premises, and based on the best available evidence."