Communication at infection outbreak hospital 'not great'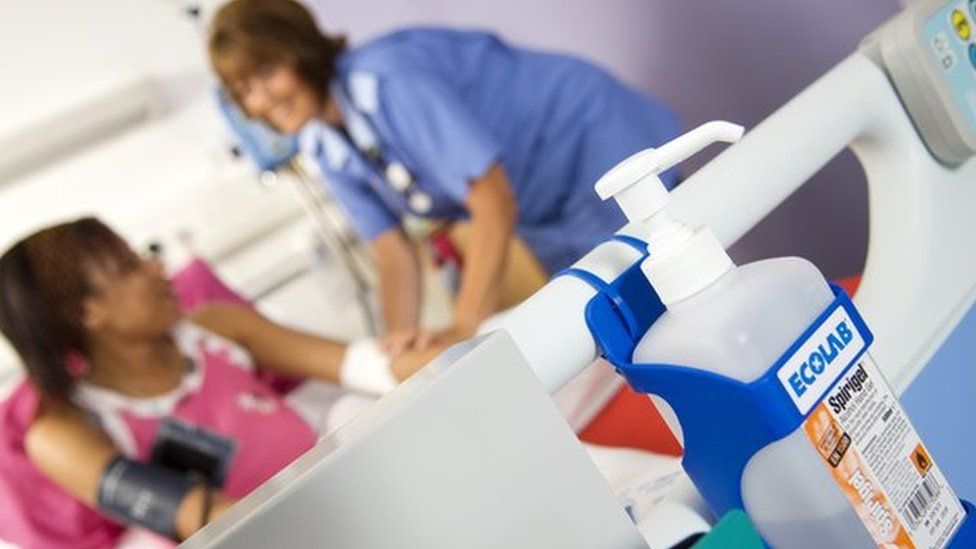 Communication between infection control nurses and maintenance staff at a Glasgow hospital hit by a series of outbreaks was "not particularly great", MSPs have been told.
Holyrood's health committee launched an inquiry in the wake of problems at the Queen Elizabeth University Hospital.
Two people died after contracting an infection related to pigeon droppings.
MSPs were told a "backlog" of repairs had built up and that there were issues with communication about the work.
However, they also heard that Scotland's overall performance in infection control was "right up there with the very best", and that "Glasgow as a health board are actually doing better than the Scottish average".
The Holyrood inquiry is looking at safety and infection control across NHS Scotland, with a wider focus than the investigation into the QEUH ordered by the health secretary.
The MSPs' inquiry was set up after problems with ventilation, water hygiene and building maintenance were identified at Scotland's largest hospital.
They want to examine whether infection control is adequate and whether more can be done to improve patient safety.
The committee has already accepted written evidence and held a meeting with executives responsible for managing and monitoring safety in healthcare settings.
Alastair Delaney, director of quality assurance at watchdog Healthcare Improvement Scotland, published a report earlier in March highlighting "challenges" in communication between estates staff and the infection control team at the Glasgow hospital.
He told the committee this was "something that we would be concerned about across the country", because it was "absolutely essential that there is good working relationships between the nursing staff - particularly for infection control - and the buildings staff."
He added: "Obviously in that particular circumstance, we had quite a large backlog of repairs to be done and the communication was not particularly great about how those were being managed and what happened when they were being reported and potentially having to be reported again.
"So it demonstrated that that level of leadership governance was really important."
Phillip Couser, an official with NHS National Services Scotland and Health Protection Scotland, told members that there was no evidence of an increase in deaths due to infection.
He said that while "some boards are doing better than others", Scotland's overall performance in infection control is "right up there with the very best".
Ahead of the session, the committee's convener Lewis Macdonald said: "Recently there have been increasing incidents of infection in Scotland's hospitals raising serious questions about the safety and control of our healthcare environments.
"Our session on Tuesday is vital for the committee to learn the scale of the problem and ensure robust measures are in place to combat any issues.
"This evidence session will allow us to hear directly from those responsible for the healthcare facilities in Scotland and we will ensure any issues raised are brought to the attention of the Scottish government."
In the case of the child, it was a contributory factor in his death. Although the woman was found to have the fungal infection it was not the cause of her death.
Both cases are being investigated by the Crown Office.
The Cryptococcus is believed to have come from pigeon droppings located in a plant room on the hospital's roof.
Prosecutors are also investigating the death of a third patient at the QEUH. A 63-year-old woman was one of two patients affected by the fungal infection Mucor in January.
Separately, 23 children contracted bloodstream infections in the cancer wards at the Royal Hospital for Children - which shares the Queen Elizabeth campus - between January and September last year.
The infections were thought to be linked to bacteria in the water supply - with a report later finding "widespread contamination" at both hospitals.
Related Internet Links
The BBC is not responsible for the content of external sites.