Richard Leonard targets 'free bus travel for all'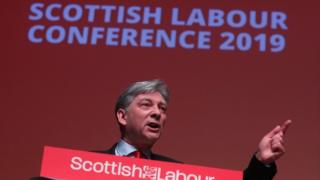 Scottish Labour leader Richard Leonard has told the party's conference that he would seek to deliver "free bus travel for all" if they win power.
Labour activists are in Dundee for the three-day event, having heard from UK leader Jeremy Corbyn on Friday.
Mr Leonard said the deregulation of bus services has been a "failure", and that in government Labour would reverse it.
He said his long-term goal would be to "build a free bus network to serve the whole of Scotland".
The MSP also said the idea of anti-Semitism in the Labour movement "sickens" him, saying "it is not who we are" and pledging to "root it out".
Welsh First Minister Mark Drakeford also addressed the conference on Saturday, while Shadow Chancellor John McDonnell will speak on Sunday.
Saturday also saw policy debates on education, local government and equalities - with the latter including a statement from the party executive about anti-Semitism after local party groups had been denied an emergency motion on the topic.
Mr Leonard told the conference that his party would table amendments to the Transport Bill currently under consideration at Holyrood to "put our bus services back in public hands".
He said this would see the network "run not for profit, not to line the pockets of shareholders, but to give the public a service that we will all benefit from".
And the MSP said the party's ultimate aim was a "universal public service", saying: "The Scottish Labour government that I lead will not only end the failure of deregulation, we will deliver the success of free bus travel for all.
"We will build a proper bus network that connects Scotland's communities. From that collective strength and that commitment to being a truly public service, we will shift the balance from shareholder profit to public investment.
"Labour will build a free bus network to serve the whole of Scotland."
Mr Leonard did not say specifically how the policy would be paid for, but endorsed the idea of an annual "wealth tax" to raise more money from the better-off in society.
He said wealth in Scotland was accumulating every year even as most people's incomes were shrinking, calling for "radical redistribution of power and wealth".
On Friday, Mr Corbyn issued a plea for party unity after rows about Brexit and anti-Semitism, telling delegates that "the only thing that can hold us back is if we were to turn our fire on each other rather than on the Tory government".
This was echoed by Mr Leonard, who told the conference that "splits are damaging".
He added: "I do not welcome people leaving the Labour Party - it is not a cause for celebration, it is a cause for regret.
"Under my leadership, the Scottish Labour Party will remain a broad church."
This was disputed by local SNP MSP Shona Robison, who said Labour were "more interested in fighting each other than fighting for the people of Scotland".
She said Labour "can't match the SNP's ambition it comes to delivering for public services", saying it was "no wonder they are trailing a distant third in Scottish politics".