Scottish independence: SNP says Scotland should have own currency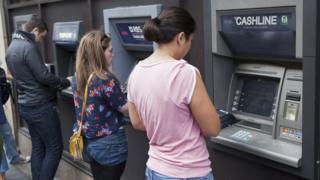 An independent Scotland would look to introduce its own currency within the first few years of leaving the UK under a new policy set to be introduced by the SNP.
Under the proposals, Scotland would initially keep the pound during a "transition period" after independence.
But the Scottish Parliament would decide within its first term when to introduce a separate Scottish currency.
The move would be a major policy shift from the 2014 independence referendum.
The Scottish government's White Paper on independence ahead of the referendum said Scotland would share the pound in a formal currency union with the rest of the UK after independence.
However, this was ruled out by the UK government - and the currency issue was widely seen as a major reason for the Yes campaign losing the referendum.
Writing in the National newspaper, SNP deputy leader Keith Brown predicted the new policy would "maximise support for an independent Scotland".
He later told BBC Scotland: "It proposes that we establish a central bank and a Scottish financial authority during the transition to independence, with a view to them reporting to parliament every year and taking a decision in the first term of an independent Scotland for a Scottish currency to be established."
The SNP's Growth Commission report on the economics of an independent Scotland also recommended that Scotland should keep the pound during a transition period before moving to its own currency.
The report, which was published last year, suggested that this should only happen after six key economic tests were met - which it said was likely to take at least 10 years to achieve.
However, Mr Brown argues that the party's new policy meant there would not be an "open-ended commitment" to using sterling after independence.
He added: "It is quite clear we have a very different economic outlook from the UK government, and we need to have that independence both in terms of the central bank and in terms of a Scottish currency which allows us to follow a different path.
"Not one based on austerity, not one based on a speculative currency like the pound, but one which is based on the interest of the people of Scotland".
First Minister Nicola Sturgeon said in January that she would set out her thinking on a second independence referendum "within weeks".
But the UK government is preparing to reject any call for the power to hold another referendum, sources have told the BBC.
Senior figures in the SNP say they may use a further election to try to force the issue.
Opponents of independence say that using the pound without a currency union would mean Scotland would have to accept monetary policy and interest rates set by the Bank of England, which would be the central bank of a foreign country and would therefore not be taking any account of Scotland's economic needs.
And they have questioned whether voters would be willing to "gamble" their mortgages, pension and wages on a separate currency.
Scottish Conservative finance spokesman Murdo Fraser said First Minister Nicola Sturgeon was "preparing to obsess over her absurd plan to get rid of the pound" rather that her "supposed" top priority of improving the country's education system.
He added: "Only four years ago she and Alex Salmond told us it was 'Scotland's pound' and we'd be keeping it. Now they want to dump it with massive consequences for people's pay packets, mortgages and livelihoods.
"Sturgeon has lost touch and is losing the argument."
Scottish Labour leader Richard Leonard said the Growth Commission had outlined "a further decade of austerity, with tax cuts and more power for big business, and fewer rights for workers" after independence, which he said was "the exact opposite of what Scotland needs".