Scotland finance secretary Derek Mackay promises budget backing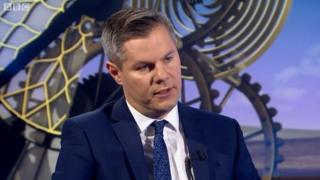 Scotland's finance secretary says he will work to win approval for his draft budget.
Derek Mackay will urge MSPs to back the Scottish government's budget plans to provide Scotland with economic certainty ahead of Brexit.
Mr Mackay announced the budget for 2019-2020 at the Scottish Parliament on Wednesday.
But it will need support from other parties to pass, as the SNP is a minority government.
Mr Mackay indicated that he would work to build a consensus ahead of a final vote, expected to take place in February.
"The Scottish budget seeks to strengthen and prepare our economy for the future, whatever our relationship with the EU, and, importantly, provides businesses in Scotland with much-needed economic stability," he said.
"In the coming weeks and months, I will work with all parties to build consensus for our spending plans in parliament and ensure we pass this budget which will help protect Scotland's future prosperity."
The spending plans announced include an investment of about £730m in health and care services, with £180m funding to raise attainment in schools.
The document also outlined a £5bn infrastructure programme and an £11.1bn local government settlement.
Mr Mackay said: "Our spending plans for 2019-20 include a commitment to mitigate the risks of Brexit as best we can, to enable our economy to thrive in any circumstances.
"If leaving the EU can be avoided, those resources currently being directed towards essential preparations can be reinvested into our public services and economy."
Speaking on Sunday Politics Scotland he said: "I recognise we are a minority government and I need to find a consensus in the Scottish Parliament.
"We are growing our economy, we are protecting our public services and we are providing stability for our country right now whilst there is chaos in Westminster.
"Why should any opposition party vote for it? Because it's £2bn for our public services and protecting and stimulating our country."
The Scottish Greens have been the SNP's partners for the past two years but this year they have said they will not even enter formal negotiations until they see movement towards major reform of local government funding.
Speaking on the programme, Greens co-convener Patrick Harvie said: "We certainly won't be voting for the budget in its current form. It's clear that changes are needed.
"But I hope the SNP are going to be a bit smarter about this than for example Theresa May who is saying 'vote for my deal or I'll march the country off a cliff'.
"I think they know that they need to compromise and work with others."
'Start again'
He added: "We have set out short, middle and long-term options for change including implementation of the recommendation that all four parties on the local tax commission agreed to, that the council tax must end.
"That probably can't be done in the term of this parliament. We are asking for solid implementation steps forward, producing legislation that can be introduced after the next election."
Scottish Conservatives finance spokesman Murdo Fraser said: "Mr Mackay chooses to blame Brexit instead of his own government's financial incompetence.
"The Scottish Conservatives will not support a budget which slashes public services and punishes hard workers.
"If Derek Mackay wants to gets us round the table, he must go back to the drawing board and start again."