Brief queries and succinct answers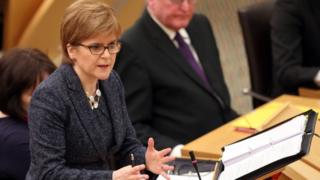 The presiding officer made it plain he was less than pleased. His role is to maintain order which includes hurrying things along a tad to ensure that everyone gets a shottie, particularly backbenchers.
But Ken Macintosh found today that he was thwarted in that task. Some questions to the first minister were more like speeches - and Nicola Sturgeon seemed willing to extend herself, verbally, in reply.
Mr Macintosh intervened. He pleaded for brief queries and succinct answers. And did it work? Thought you might say that.
Still, the prolixity of the discourse was perhaps understandable, given the topics under discussion. Which were, in no particular order, the potential collapse of the UK government; Britain's and/or Scotland's place in the European Union; Scotland's tax and spending plans.
Oh, and the obliteration of the planet by global warming. Quite a bit, in short, to be getting on with.
For the Tories, Jackson Carlaw wisely steered clear of Brexit. Just too painful. Too many pitfalls. So he resorted, entirely understandably, to classic Tory territory, the baleful impact of taxation.
Business rates, he began, were too high. Ms Sturgeon said they were lower in Scotland than in England.
Taxation generally in Scotland was proving to be a burden and might get worse next week when the finance secretary unveils his budget. Ms Sturgeon advised him to be patient, while gently inquiring what Mr Carlaw proposed to cut to fund tax constraint.
By the close, we were little further forward. However, it was a useful dress rehearsal for the Budget debate next week - and for the continuing philosophical dispute in Scotland as to the relative merits of tax and spending.
For Labour, Richard Leonard was rather effective. He relied upon a technique he has made his own, which is to found a generic argument upon a particular example. In this case, a young lad named Calum who was, he explained, on the autistic spectrum and had suffered from a lack of suitable specialist teaching support.
This was, of course, impossible for Ms Sturgeon to answer - precisely Mr Leonard's intent. She did not - could not - know the full circumstances of Calum's case.
She could only answer in very general terms, arguing that overall staffing to assist special needs education had increased - and volunteering her deputy, John Swinney, to meet the family in question.
'Climate criminals'
It was then Patrick Harvie's turn. The Green co-convener talked about climate change, simultaneously praising the Scottish government for its ambition while burying the FM, metaphorically, in a slew of statistics which highlighted the extent of the challenge and justified, he argued, a much more radical approach.
Ms Sturgeon has occasionally demonstrated a tendency to be somewhat sharp with Mr Harvie, particularly when she feels he is being too sententious.
But this time she seemed to encourage him. He was right to challenge ministers to do more. Hey, they challenged themselves on a comparable basis each and every day.
However, Mr Harvie was far from mollified. He condemned SNP politicians who urged support for the oil and gas industry, urging an end to our collective reliance on hydrocarbons.
Those who profited from fossil fuels were, he said, "climate criminals". Ms Sturgeon deftly sidestepped that particular turn of phrase while, again, evincing sympathy for efforts to address climate change.
Might her palpably emollient tone have anything to do with the fact that the SNP probably need the Greens to get their Budget through parliament? Thought you might say that.
Now, like the Greens, the Liberal Democrats don't get a question every time. But this was a Willie Week - that is, an opportunity for Mr Rennie, he of the Lib Dems, to challenge the FM.
And what did he ask about? The same thing he has asked on each of the last four occasions: Brexit and a second or People's Vote (Ms Sturgeon was spared one week, when Mr Rennie was not on the schedule).
Why so persistent? Why so single minded? The answer perhaps lies in the relatively recent conversion of Ms Sturgeon and the SNP to backing that further referendum.
One, Mr Rennie and the Lib Dems believe a self-styled People's Vote is the only answer to the Brexit crisis (they anticipate, thereby, that folk would vote in a different fashion to 2016 - which may or may not be true).
Two, they fret that the SNP commitment is not particularly deep or well-grounded. There are folk in the SNP who fear that a second referendum on Brexit might set an unhelpful precedent for independence.
If Ms Sturgeon had been tolerant towards Mr Harvie, she extended no such concession to Willie Rennie. Would he ever take "yes" for an answer, she pleaded.
And she prefaced these remarks by stressing that she would make her points particularly simple. The plain implication being that Mr Rennie required a little help to reach his PoU, point of understanding.
Mr Rennie responded with a burst of impassioned rhetoric. The Tories were divided and on the run. Brexit could be beaten, could be reversed.
The first minister, he argued, should eschew any talk of compromise, any examination of matters such as the Northern Ireland backstop and its supposed impact on Scotland. She should aim for the core.
Ms Sturgeon stood up slowly, like a teacher dealing with a particularly recalcitrant pupil or a lawyer in court facing an unhelpful witness.
Such purity, she implied, was fine for the Liberal Democrats. Mr Rennie, she said, would never be faced with the challenges of operating as Scotland's first minister.
She, on the other hand, had to consider Scotland's interests in a pragmatic way. She loathed Brexit. She wanted to thwart it. But she had to contemplate options if she - and Mr Rennie - fell short in that ambition.
At which point, she apologised to the PO for taking rather too long in her answer. In the chair, Ken Macintosh looked more sorrowful than angry.