New Scottish fire safety measures after Grenfell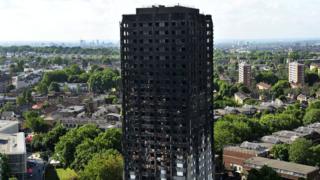 New fire safety measures for high rise buildings in Scotland are to be introduced next year in response to the Grenfell Tower tragedy.
A review was ordered in the wake of the London blaze, which killed 72 people.
The changes will include measures to improve evacuation from high rises, and making sprinkler systems mandatory in all new-build flats.
Communities Secretary Aileen Campbell said this would add to "stringent safety regulations" already in place.
The changes will be brought forward via legislation in 2019, with ministers planning amendments to a members' bill from Labour's David Stewart.
A working group was set up at Holyrood following the Grenfell fire in June 2017, bringing together ministers, planners and the fire service.
They have now agreed series of changes to building regulations and safety rules, which will be implemented over the coming years.
These include:
Enforcing the use of non-combustible cladding on tall buildings, hospitals, care homes and entertainment venues
Mandatory installation of sprinklers in flats and larger multiple-occupancy dwellings
Improved evacuation measures for new high-rise buildings, including sound alerts and escape stairs
New compliance plans for high risk buildings
A database of safety critical information for all high rise residential buildings
Guidance for residents of high rise buildings
Ms Campbell said: "The tragic events at Grenfell Tower last year emphasised how important building and fire safety is. We're confident that in Scotland we have stringent safety regulations but we have not been complacent.
"That is why we established the ministerial working group and undertook a thorough and critical review of the regulations we have in place - public safety is our priority.
"I'm pleased that we can now confirm the package of improvement measures that will be taken forward to make Scotland's buildings even safer."