Week ahead at Holyrood: MSPs to vote on Brexit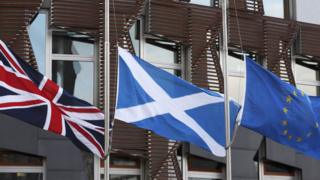 The Brexit debate we have all been waiting for begins at Westminster this week - and MSPs will have take their own vote on Wednesday.
In a bid to avoid being excluded from the meaningful vote, the Scottish Parliament will dedicate an afternoon debating the draft withdrawal agreement.
A joint motion has been drawn up by four of the five parties represented at Holyrood which rejects both the agreement and a no-deal Brexit.
The SNP, Labour, Greens and Lib Dems have said both of these outcomes "would be damaging for Scotland and the nations and regions of the UK" and united to call for a "better alternative" to be brought forward.
What is meant by "better alternative" is not spelled out in the motion though, so expect discussions on single market membership, the Norway model and the so-called People's Vote.
Meanwhile, the Scottish Conservatives will oppose this motion and urge MSPs to back Prime Minister Theresa May's deal.
The party - and indeed the UK government - insists the EU is not willing to return to the negotiation table and therefore it is this deal or no-deal.
MSPs will vote at 17:00 on Wednesday. While it will not impact the vote at Westminster, it will become the official position of the Scottish Parliament as a result.
Aside from this symbolic vote, what else is happening the Holyrood this week?
Tuesday - thyroid conditions and autistic pupils
MSPs will debate how thyroid conditions are treated in Scotland, following a committee calling for a single protocol for testing to be applied.
The battle to bring this issue to Holyrood has been a long one, with a petition urging for more effective treatment and testing being lodged back in 2012.
The Public Petitions Committee published its report in March this year and the Scottish government responded in June.
But there are calls for more action to be taken, particularly after concerns that GPs were being discouraged from prescribing T3 - a hormone treatment - last year. Watch out for Labour MSP Elaine Smith's contribution in particular, as she is a vocal advocate of T3 following her own diagnosis of hypothyroidism.
After that, the Scottish government is leading a debate on support for veterans after the launch of the first UK-wide strategy for veterans.
The member's debate is being led by Labour MSP Daniel Johnson, who is focusing on the experience of autistic pupils.
A recent study indicated many children with autism are excluded, both formally and informally, from schools.
In the morning, the environment committee will consider a raft of Brexit-related legislation, before hearing from both Environment Secretary Roseanna Cunningham and Rural Economy Secretary Fergus Ewing on the potential impact of leaving the EU.
The session will cover agriculture, fisheries, no-deal planning and regulatory frameworks.
Wednesday - music tuition
On Wednesday morning, the education committee will hold its final evidence session on its inquiry into free music tuition in schools.
Representatives from Cosla - the umbrella body for Scotland's councils - and Education Secretary John Swinney will be giving evidence.
The crux of the argument is whether local government has enough resources to continue to provide free instrumental tuition and how high it prioritises this.
Two young campaigners told MSPs last month that fees were increasing inequality because low-income households were unable to cover the costs.
Elsewhere, the rural economy committee will receive an update on the Aberdeen bypass. The project has been subject to a series of delays resulting in the transport secretary telling parliament last month that there was "no definitive date" for it to fully open.
Before the Brexit debate in the afternoon, education and skills ministers face portfolio questions. Afterwards, Green MSP Alison Johnstone celebrates conscientious objectors during World War One with a member's debate.
Thursday - safe staffing
Thursday afternoon will be dominated by the first debate on the Health and Care (Staffing) (Scotland) Bill - otherwise known as the safe staffing bill.
The legislation seeks to ensure the appropriate level of staffing is available in health and social care by putting a pre-existing tool on statutory footing.
But concerns have been raised that this tool does not cover allied professions, nor will it be able to reflect specific needs as they change on a day-to-day basis.
Proponents argue that the tool simply sets a baseline and managers will still be expected to assess these needs and whether more staff are required at any given time.
Another issue regarding vacancy levels in Scotland will also likely be raised.
Ahead of this debate, party leaders will battle it out at first minister's questions from noon.
Then SNP MSP Emma Harper leads a member's debate to mark World Aids Day, highlighting significant progress in the treatment of the disease.