Gordon Brown calls for review of the future of the NHS in Scotland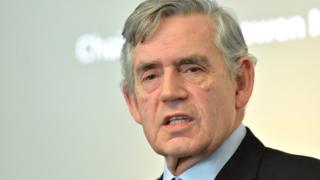 Former prime minister Gordon Brown has called for an independent review into the long-term future of the NHS in Scotland.
He accused the Scottish government of having "short-changed" the service over the past decade.
And he claimed the SNP administration at Holryood was more concerned about Scottish independence than with "worrying about our NHS".
The SNP hit out at what it described as "hypocrisy" from Mr Brown.
It said NHS staffing was up by over 12,000 under the SNP and health funding was at record levels.
The former Labour prime minister made the call ahead of the Scottish government's budget on 12 December, which he described as an opportunity to "undo some of the damage".
Mr Brown said: "Twenty years ago, as chancellor, I set up a review into NHS funding... We brought in people on a non-partisan basis to help us draw up a national plan based on the best use of new investment.
"Now we need a similar independent review into the long-term future of the Scottish NHS and, for the sake of five million patients and their long-suffering nursing and medical staff, we need it urgently."
Mr Brown said the NHS takes up around 40% of the Scottish government's budget, but added: "No one will tell you that the NHS merits 40% of the Scottish government's attention."
He said: "SNP ministers are far more likely to wake up in the morning planning for independence than worrying about our NHS.
"And the effects of this are now coming into sharp focus: for the past 10 years the SNP has short-changed the Scottish NHS to the point that every winter, from now on, Scotland is likely to face a staffing and waiting list crisis."
The former prime minister said Scotland's health care spending, per person, has had to be higher than that south of the border because of issues such as remote practices and poor health in parts of the country.
"That's why, in 2007 - the year the SNP took power - Scottish health care spend was 16% higher per head than in England," he said.
"But after 10 years of SNP government it was, by last year only 7% more - which represents a cut in the real value of what was spent last year of nearly £1 billion."
Mr Brown pointed to figures showing that more than 3,000 nursing and midwifery posts, and hundreds of GP and consultant posts, remain unfilled and he highlighted what the Mental Health Foundation has called a "growing child mental health crisis".
He claimed Scottish ministers "are denying the NHS the money it needs".
"In all, they are offering the NHS a cash growth half as much as that of England - 3.5% cash growth per year as against 7% down south," he said.
An SNP spokeswoman said: "This is utter hypocrisy from Gordon Brown who, as chancellor, imposed a legacy of toxic PFI contracts on our public services, including the NHS, at a cost of over £32bn.
"We will take no lessons from a party which at the last Scottish election, proposed spending plans which would have seen our NHS £360m worse off this year - the equivalent of losing around 9,000 nurses.
"In contrast under the SNP, NHS staffing is up by over 12,000 and health funding is at record levels - £4 bn higher than it was under Labour."