UK 'will not trade away fishing' in Brexit deal - May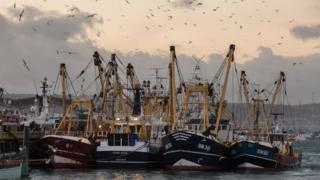 The UK government has insisted its Brexit agreement will protect the fishing industry despite claims it is preparing to "sell out" fishermen.
The government's draft agreement on post-Brexit relations says the UK will be an "independent coastal nation".
The Scottish Fishermen's Federation gave the document a cautious welcome when it was published on Thursday.
But First Minister Nicola Sturgeon predicted the industry would be used as a "bargaining chip" in the future.
And Scottish Conservative MP Ross Thomson, a prominent Brexiteer who has been an outspoken critic of Prime Minister Theresa May's approach to Brexit, said the agreement was "unacceptable" as it meant "sovereignty over our waters" would be "sacrificed for a trade deal".
The EU's Common Fisheries Policy (CFP) is deeply unpopular with Scottish fishermen who want the UK to be negotiating access and quota rights as an independent coastal state by the end of 2020.
All 13 Scottish Conservative MPs - including Scottish Secretary David Mundell - warned Mrs May last week that anything less than this would be a "betrayal of Scotland".
They said they could not support any deal with the EU that would "prevent the UK from independently negotiating access and quota shares" as this would mean "we would not be leaving the CFP in practice".
The final draft of the political declaration - a text outlining the future relationship between the EU and the UK after Brexit - contains neutral language about fishing.
It says both sides will "use their best endeavours" to conclude talks in time for the UK to leave, and adds that they should cooperate on access to waters and quota shares "within the context of the overall economic partnership".
Mr Thomson and Ms Sturgeon both argue that the latter point shows ministers could use fishing as a "bargaining chip" in negotiations with Europe post-Brexit, and both have called on Mr Mundell to consider his position.
The first minister told MSPs that the declaration "represents another Tory sell out of Scottish fishermen".
She said: "What we see is that the Scottish fishing industry will be used as a bargaining chip in wider trade talks.
"In terms of David Mundell's position I would simply say this - his position is a matter for him, but if David Mundell is still in office by the end of today in light of this political declaration he will have forfeited forever any last remaining scrap of principle or credibility that he had."
The Scottish Secretary hit back, saying he was "not taking lessons on standing up for fishermen from Nicola Sturgeon".
He said: "The prime minister has fiercely resisted the efforts of EU states to make an explicit link between access to our waters and access to markets.
"We will negotiate and decide, as an independent coastal state, on access and quota on an annual basis, just like Norway and Iceland do now.
"The surest way to guarantee the EU access to Scottish waters would be to rejoin the CFP - exactly what Nicola Sturgeon is demanding."
Mrs May told MPs later in the day that "the fisheries agreement is not something we will be trading off against any other priorities".
'Practical sovereignty'
The government has won some backing from the Scottish Fishermen's Federation, with chief executive Bertie Armstrong saying the declaration "gives the UK the power to assert its position as an independent coastal state with practical sovereignty over our waters and natural resources".
However he added that "we know that several EU nations will not give up their attempts to link access with trade in order to retain absolute rights to fish around our coastline".
He added: "We will continue to seek assurances from the UK government that it will remain steadfast. We will not rest until the future arrangements are signed, sealed and delivered and we secure this critical control over access to our waters and who catches what stocks, where and when."
Labour meanwhile has criticised the political declaration as "26 vague and ambitious pages of buzzwords".
Shadow Scottish Secretary Lesley Laird said the document "makes a mockery" of the "red line" set down by the Scottish Tories, saying that "David Mundell must resign with immediate effect, and his colleagues must make clear that they will not support this half-baked deal".