Week ahead at Holyrood: Scrutiny of EU withdrawal agreement
By Louise Wilson
Holyrood Live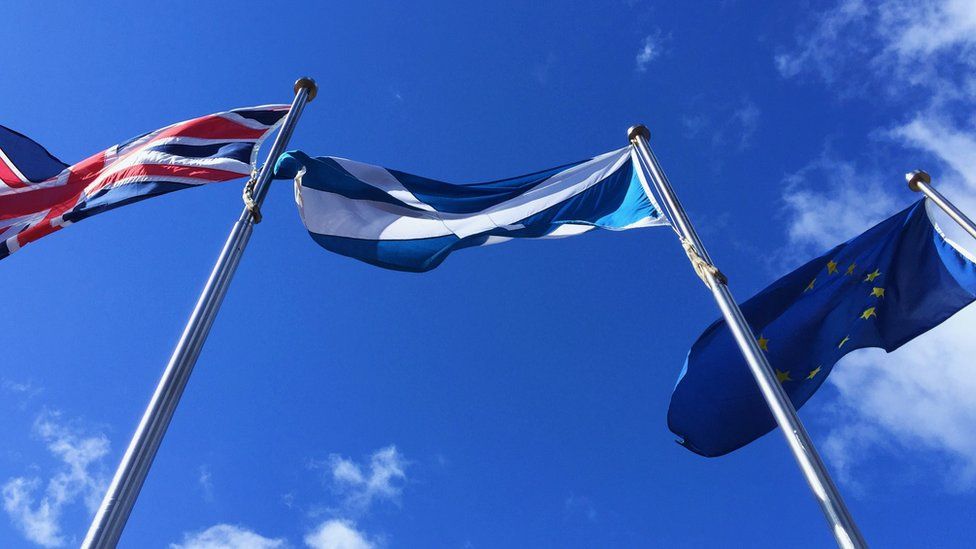 Brexit battles will spill over into this week as Brexit Secretary Mike Russell appears before committee on Wednesday morning.
Now MSPs have had time to digest the 585-page withdrawal agreement, the constitution committee will cross-examine the minister about its contents.
Mr Russell insisted the deal was "essentially dead" in a statement to parliament last week and argued Scotland was being ignored.
But Tory MSPs accused the Scottish government of stirring up grievance.
Expect more of this on Wednesday, plus some extra detail on specifics like fishing, migration and whether Scotland could make use of the Northern Ireland backstop.
But what other (non-Brexit related) discussions are happening this week?
Tuesday - Best Start Grant
Social Security Secretary Shirley-Anne Somerville will update MSPs on the Best Start Grant on Tuesday, after topical questions.
The Best Start Grant will replace the Sure Start Maternity Grant and will see a one off grant of £600 for the first child in low income families (a £100 increase on the current rate). It will also reintroduce a £300 payment for subsequent children and two payments of £250 each during a child's early years.
It was previously announced this would be available before Christmas.
After that, the Scottish government leads a debate on developing digital industries before Labour MSP Lewis Macdonald uses a member's debate to highlight Offshore Wind Week.
In the morning, Holyrood Live will be covering the climate change committee as it continues to gather evidence on new legislative emissions targets.
Climate change campaign groups make up the majority of witnesses, some of whom have criticised the Scottish government for not being ambitious enough.
The Climate Change (Emissions Reduction Targets) (Scotland) Bill stops short of setting a date to reduce greenhouse gas emissions by 100%, instead committing to a 90% reduction by 2050.
Another committee of interest is justice, as it discusses two pieces of legislation: the Vulnerable Witnesses (Criminal Evidence) (Scotland) Bill seeks to allow the most vulnerable victims to pre-record evidence for court; and the Management of Offenders (Scotland) Bill will allow the use of electronic tagging on offenders.
The Scottish Crown Estates Bill faces its finale on Wednesday afternoon.
This legislation seeks to overhaul management arrangements for the Crown Estate in Scotland, which has been devolved since April 2017.
Specifically it is designed to give community groups and local authorities more say on how parts of the estate are run.
Questions to justice and transport ministers, and a member's debate on pancreatic cancer awareness led by SNP MSP Clare Adamson, fall either side of the stage three debate.
This time the committee hears directly from three councils, two of whom (West Lothian and Perth and Kinross) have introduced fees for lessons while Glasgow Council does not charge.
Thursday - energy efficiency and economic growth
After the usual show of first minister's questions, Tory MSP Rachael Hamilton leads a member's debate on arthritis and access to work.
A ministerial statement on energy efficiency will be delivered after lunch.
Then the economy committee leads a debate on 'Scotland's Economic Performance and Economic Data'.