Council pay offer rejected by largest local government union
By Jamie McIvor
BBC Scotland local government correspondent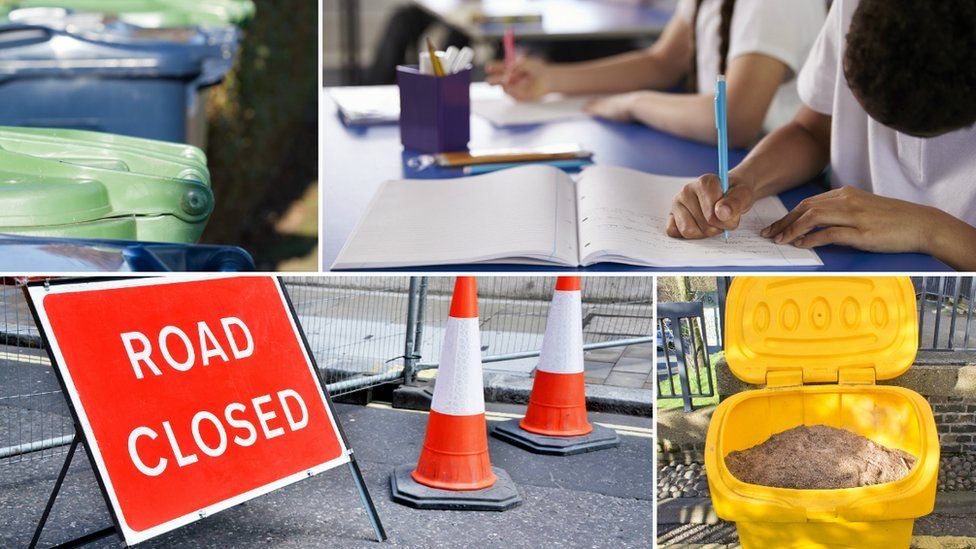 The prospect of a council pay strike has moved closer after the largest local government union rejected a 3% pay deal.
Unison said its members voted overwhelmingly against the offer and will now start moves which could lead to a strike.
Two thirds of the members who voted said they were prepared to strike.
In its initial response, council body Cosla said it was "disappointed" by the vote.
An official strike ballot will need to be held before any action can take place.
Unison's rejection means that all three major council unions have now rejected the pay offer.
They will meet Cosla on Friday.
Pay for council workers is standard across Scotland and negotiated between the unions and the council umbrella body Cosla.
The offer on the table is worth 3% for all staff earning up to £80,000 a year - and £1,600 for those above that.
Employers also say the minimum rate of pay would be £8.77 an hour. All this would be backdated to 1 April.
A particular concern of the unions is the pay of lower-paid members of staff - making the point that they have lost out through the years of austerity.
Mark Ferguson, chairman of Unison Scotland's local government committee, said: "Unison members have overwhelmingly rejected the 3% pay offer.
"They do not think it is fair that the Scottish government found £38m extra to put into teachers' pay, over and above their cost of living increase, but they have offered no additional money for low-paid local government workers.
"If Unison and other unions decide to move towards strike action, the next step will be to hold a statutory industrial action ballot."
Johanna Baxter, head of local government (bargaining), said the resulted show the "real anger and frustration" amongst members at the "lack of action" by Cosla and the Scottish government.
She said: "As the Scottish government prepare their budget, we will put further pressure on them to make more money available to fund a decent pay rise for local government staff.
"Local government workers have endured a decade of real-terms pay cuts, and they have now simply had enough."
Cosla resources spokeswoman, councillor Gail Macgregor, said: "Obviously my first reaction is one of disappointment at the outcome of the ballot.
"We value our workforce and our 3% offer matches other offers within the public sector in Scotland.
"However, whilst disappointed, we as employers look forward to discussing this with UNISON at our joint meeting tomorrow."
Before a strike can take place, a legal strike ballot has to be held.
Trade union law means that there needs to be a 50% turnout before a strike can take place.
In essential services, at least 40% of people entitled to vote need to back a strike.