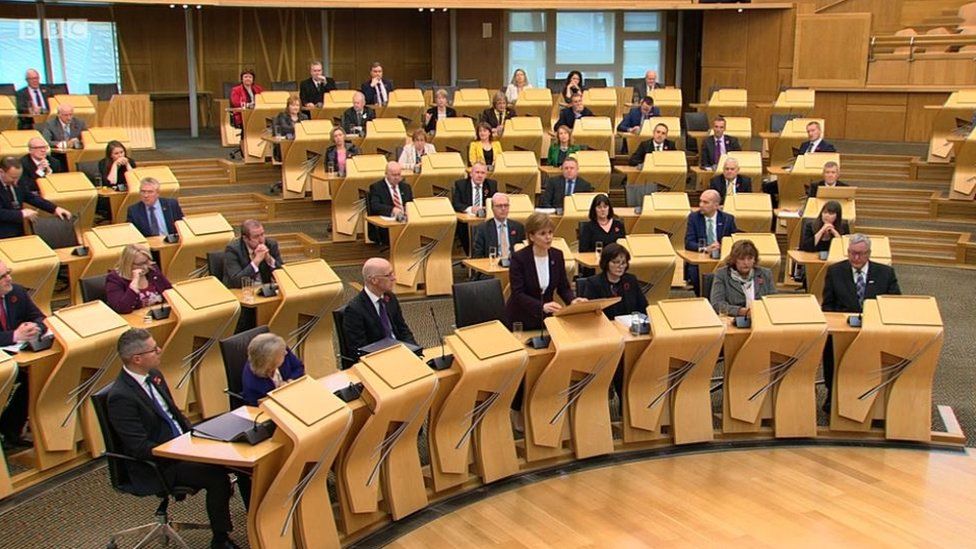 At times like this, said Richard Leonard, this Parliament is at its best. He was referring to Holyrood's tribute on the centenary of the Armistice which brought World War I to a weary, shell-shocked, limping, bloody halt.
I would not dissent in any way from Mr Leonard's comments. His own contribution was first class, thoughtful and empathetic. So too were the contributions from each of the other leaders.
They contrived, individually and collectively, to pay homage to those who died, those millions who died - while simultaneously excoriating the horror of futile conflict.
The balance between those two facets was different in each speech. But all five contributions featured that blend.
On Sunday, Remembrance Day, the names listed in the Scottish National War Memorial Roll of Honour will be projected onto the parliament building.
Alongside Scottish service personnel, the list includes nurses, munitions factory workers, Merchant Navy sailors and overseas combatants who fought in Scottish colours.
Set to music, the full tally of those who died in Great War service runs to 134,712 names. Projecting the Roll of Honour at Holyrood will take seven hours.
Today, that elongated visual tribute gained its accompaniment, its oratory. The speeches were thoughtful and elevated - but also iconoclastic, challenging.
Nicola Sturgeon opened in personal mode, recalling the War Memorial in Dreghorn, where she grew up. She told us, quietly, it stood on a hill overlooking her primary school.
There are, she said, a little more than fifty names on it, running from James Andrew to Andrew Wylie. Like the many other memorials across Scotland, a litany, a mnemonic of suffering and sacrifice.
The first minister stressed that it was "vital" to remember and honour those who gave their lives in service.
But it was right too to mark "the sheer scale of the suffering" involved, to underline that "peace cannot be taken for granted".
Alongside the formal ministerial tribute, there were other personal notes from the first minister, reflecting upon four years of commemoration, a century since the beginning and end of the war which was supposed to end all wars.
Ms Sturgeon said she would never forget the Beating the Retreat ceremony at the Arras battlefield site last year.
Jackson Carlaw, for the Conservatives, delivered an excellent speech. He too paid tribute, heartfelt tribute, recalling the twin memorials in his old school, Glasgow Academy.
But, at length and in depth, he condemned the "futility" of so much of the conflict. Partly, he said, that resulted from "19th century military tactics facing 20th century technology."
He urged MSPs to deliver their tributes with honour and authenticity, while resolving "that this is not and will not be to glory in that war in its ambitions or its monstrous, indiscriminate slaughter".
Then Richard Leonard, the Labour leader. He deftly moved from tribute and pathos to tragedy and persuasion. Recalling contemporary opposition to the conflict, he summoned up a future designed to heal division.
The balance from the next speaker was tipped more firmly in the direction of condemnation. But, wearing a white poppy, Patrick Harvie of the Greens stressed he was determined to "honour and remember those who lost their lives".
But Mr Harvie recalled, with summoned anger, the "mutual slaughter" in what he styled "an atrocity committed by the governments of both sides against the people of both sides."
Finally, Willie Rennie of the Liberal Democrats. He too skilfully blended both emotions, honour and horror. And he closed, fittingly, with words from Neil Munro's poem Lament for the Lads.
"Sweet be their sleep now wherever they're lying/
Far though they be from the hills of their home".