Sturgeon urges EU to retain Edinburgh office after Brexit
By Glenn Campbell
Political correspondent, BBC Scotland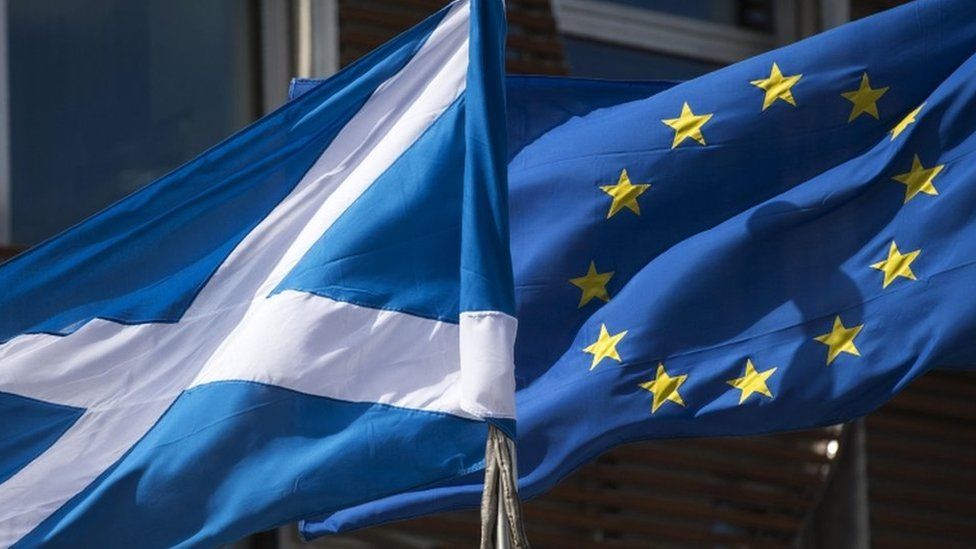 Scotland's First Minister Nicola Sturgeon has urged the EU to retain an office in Edinburgh after Brexit.
The Scottish government is also seeking "active support" for the proposal from the UK foreign office.
The EU has indicated that its future relations with the UK will be conducted from London.
But Ms Sturgeon argues that keeping an outpost in Edinburgh would ensure "continued close collaboration" after the UK leaves the EU.
The first minister wrote to the EU's high representative for foreign affairs, Federica Mogherini, in the summer.
Her letter said there was a "strong case for the EU institutions to retain a presence in Edinburgh" after Brexit.
She said: "Approaches taken in Scotland on devolved areas such as environment, agriculture, fisheries and justice will be of practical interest to the EU."
SNP ministers also hope that one day Scotland will be a full member of the EU as an independent country.
In her reply, Ms Mogherini said she wished to "maintain a close and friendly relationship between Scotland and the European Union".
But she also indicated that the EU's Edinburgh office - which opened in 1975 - would close when the UK leaves.
Ms Mogherini said: "The common practice around the world, even with our biggest and closest partners, is to have a physical diplomatic presence in the capital only.
"The delegation in London will cover overall relations with the UK - that is with England, Northern Ireland, Scotland and Wales."
The Scottish government has not given up on the idea of continued EU representation in Edinburgh.
External Affairs Secretary Fiona Hyslop has written to UK Foreign Secretary Jeremy Hunt seeking his backing.
A foreign office spokesman said: "EU representation in the UK post-Brexit is a matter to be decided between the UK and the EU.
"The EU have not notified us about any wish to change their level of representation."
After two years of Brexit negotiations, the UK and the EU are in the final stages of negotiating a withdrawal agreement.
The UK is due to leave the EU on 29 March next year.
The EU does have offices outside the capital cities of some "third countries" for example Hong Kong in addition to the Beijing office in China.
But Ms Mogherini has said this only happens where there are "very specific political and commercial reasons".
The BBC understands the EU may be persuaded to retain an office in Belfast because of the peace process, but its offices in Edinburgh and Cardiff are expected to close.
At a Holyrood reception on Wednesday, the Austrian ambassador to the UK, Michael Zimmerman, touched on the issue of future relations.
He said: "When the institutional ties between the UK and EU reduce, we have to strengthen the human ties.
"Brexit will not be an excuse not to co-operate."