Scores of teachers write to Nicola Sturgeon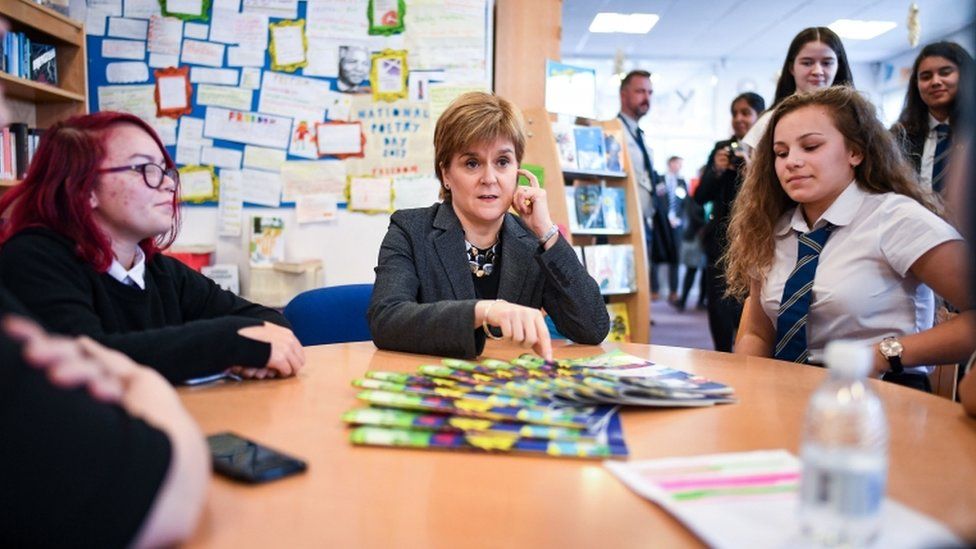 Nicola Sturgeon has received letters from 120 teachers in a month after appealing for them to come forward with their thoughts about their jobs.
The first minister issued the appeal in October in response to an anonymous letter from a teacher voicing concerns.
She said teachers should "come and tell the government how you feel about your job, whether that is good or bad".
A parliamentary question from Tory MSP Liz Smith revealed that in the month since, 120 people had done so.
The government said issues discussed with teachers included additional support needs, pupil behaviour, workload, recruitment and pay.
The writer said the job was becoming "increasingly impossible" and claimed that teachers had been told to "keep our mouths shut" about problems facing them.
Asked about this at first minister's questions, Ms Sturgeon said: "Let me issue this message to teachers or any other public sector worker across the country - 'Come and tell the government how you feel about your job and your public services, whether that is good or bad, and whether it is about positives or things that we want to do better'.
"Let me be clear to teachers that they can come and raise anything they want with the government."
In response to a parliamentary question from Ms Smith, Education Secretary John Swinney said that "the Scottish government has received a total of 120 letters from teachers in response to the first minister's offer".
Ms Smith said: "These are professionals who have taken time out of their day to express serious concerns about the state of education.
"This is supposed to be a priority area for Nicola Sturgeon and the SNP government.
"How they respond to these scores of representations will reveal just how serious they are about education."
A spokeswoman for the Scottish government said Mr Swinney "regularly meets with teachers when visiting schools and has had a number of meetings in direct response to the letters received".