Week ahead at Holyrood: Organ donation and Universal Credit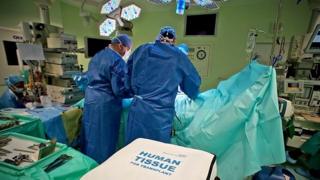 From the rules around organ donation to the rollout of Universal Credit, there will be much for MSPs to talk about.
---
The star of the week will be the health committee on Tuesday as it takes evidence on legislation seeking to make the organ donation register opt-out.
A recipient of a lung transplant will tell MSPs about her experience, alongside a number of charities which back the bill.
Gillian Hollis received new lungs in 2004 after being diagnosed with a rare disease which only impacts one woman in a million.
The Scottish government committed to moving to an opt-out as opposed to opt-in system for organ donation after similar legislation came into force in Wales.
The committee is collecting views on the move as part of stage one consideration of the bill which will assume people were in favour unless stated otherwise.
What else is happening this week?
Tuesday - Universal Credit
The majority of Tuesday afternoon will be given over to a Scottish government-led debate on welfare cuts and Universal Credit.
The rollout of the new system has been subject to much criticism, particularly following concerns that 3.2 million working families could lose £48 per week - about £2,500 a year.
Universal Credit seeks to combine six benefits, merging them into a single payment.
Chancellor Philip Hammond announced more money for Universal Credit in the Budget last week.
The Scottish government's motion urges the UK government to halt the rollout and criticises the Budget for not lifting the current benefits freeze.
Before all that the proposal to cut NHS Tayside staff by 10% due to a projected deficit of £18m will be raised during topical questions, as will protecting emergency workers during the firework season.
The member's debate in the evening will see SNP MSP Emma Harper highlight upcoming work on the Maybole bypass.
In addition to the health committee in the morning, the justice committee continues to scrutinise the legislation which saw the merger of police and fire services. It is hearing from the police watchdog, Pirc, and the HM Fire Service Inspectorate.
Wednesday - post-Brexit research and music tuition
After finance, economy and fair work ministers face a grilling at portfolio questions, MSPs will debate the impact of Brexit on international research.
It follows concerns of Scotland being at risk of losing the capacity to shape major medical research projects.
Recently, Nobel scientists also warned against ending freedom of movement for fear of the impact this may have on scientific research.
Expect both topics to come up.
The education committee will hear from young people campaigning against cuts to music tuition in schools.
Two members of the Scottish Youth Parliament - Alice Ferguson and Catherine Mackie - will appear before MSPs to highlight threats to free music tuition.
Alice, 16, launched a campaign last year to save instrumental tuition in West Lothian, while Catherine is on the SYP's education committee.
Meanwhile, the rural committee continues taking evidence on the Transport Bill, this time from organisations representing disabled people.
At the evening member's debate, MSPs led by Tory Liam Kerr will have an opportunity to celebrate emergency service workers.
Thursday - WWI remembrance
After first minister's questions at lunchtime, MSPs will take part in a half hour motion of remembrance for those who died during World War I.
Sunday 11 November marks the 100th anniversary of the Armistice and the 134,712 men and women listed in the Scottish National War Memorial Roll of Honour will be remembered.
After a break, Labour MSP Monica Lennon will lead a member's debate on South Lanarkshire Council's plans to reduce the number of care home facilities.
Then a ministerial statement will be made on improving the education experience of young people.
A report last year suggested half of LGBT pupils in Scotland were bullied at school and pressure has been mounting for the Scottish government to take a new approach to tackle the issue.
Ending the day will be the final debate on the Prescription (Scotland) Bill.
Full committee listings are yet to be published, but one of immediate interest is the social security committee which will hear evidence about in-work poverty.