Councils have 'no options left' for savings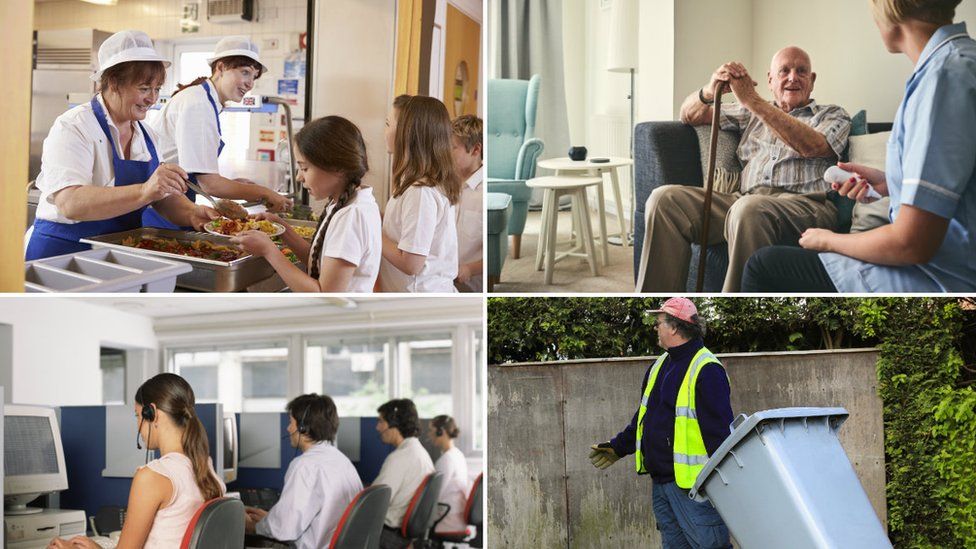 Councils have called for a 2.5% increase in local government funding in the upcoming Scottish Budget.
Council umbrella body Cosla argues that they have "no options left" for savings.
It also wants the 3% cap on council tax increases to be scrapped and says councils should be given the right to introduce levies such as tourist taxes.
The Scottish government said local government had been treated "very fairly".
It added that in 2018-19, councils would receive funding of £10.7bn and said Finance Secretary Derek Mackay was open to talks on options for local tax reform.
Cosla outlined its Budget demands in a briefing document.
It also asked for a sustainable reform of council tax and local government funding and for council-run health and social care services to be given a share of health consequentials.
It said policies the government had already committed £352m in funding to for 2019/20 - the early learning and childcare expansion, free personal care extension and school counsellor increase - must be in addition to core council funding.
The report states that local government budgets have fallen 10 times faster in real terms than the Scottish budget in the past five years, at 4% compared to 0.4% - and councils now need £549m extra just to stand still.
It warns: "There is no room left for manoeuvre. There must be financial support for local government in the 2019/20 budget.
"If not, essential services will be at risk resulting in a detrimental impact on our shared ambition of inclusive growth."
The report added that any financial threat to council budgets puts communities at risk, as well as local economies and the wider Scottish economy.
Cosla president, Councillor Alison Evison, said: "Councils have made necessary and significant savings but there are now no options left.
"We cannot be made to cut our essential services without it having a wider, detrimental impact upon our communities.
"We have no capacity to take on additional initiatives, however beneficial the outcomes would be to our communities, unless the financial settlement is increased accordingly.
"I am calling on the cabinet secretary for finance, economy and fair work to make sure this budget invests in local government so that together we can deliver inclusive growth for communities across Scotland."
Labour's communities spokesman Alex Rowley said: "The Scottish Budget cannot continue this conveyor belt of Tory austerity for Scottish local government.
"SNP ministers in Edinburgh passing on these cuts simply harm our communities. These cuts hit our schools and social care, housing and roads.
"Labour wants to see a fair settlement for local government in the budget - an end to the SNP passing on austerity and a renewal of powers for our councils, such as having the ability to set a tourist tax."
A Scottish government spokeswoman said: "Despite continued UK government real terms cuts to Scotland's resource budget, we have treated local government very fairly.
"In 2018-19, councils will receive funding through the local government finance settlement of £10.7bn.
"This will provide a real terms boost in both revenue and capital funding for public services."
She added that Mr Mackay would present the government's tax plans in the Budget and was open to talks on options for local tax reform.
Related Internet Links
The BBC is not responsible for the content of external sites.