MSPs make hundreds of changes to Planning Bill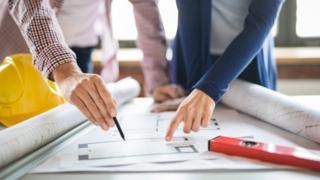 Plans to reform Scotland's planning system have been reformed themselves after MSPs made hundreds of changes to government legislation. What has changed, what hasn't, and what will the Planning Bill end up meaning for people in Scotland?
What's this all about?
The planning bill was put forward in a bid to overhaul the current planning system and give local people and communities more of a say in the process.
It was pitched by the government as "reforms that will strengthen the planning system's contribution to inclusive growth, housing and infrastructure delivery and empowering communities".
Planning minister Kevin Stewart told MSPs it would see powers "flow to communities" via local place plans, which will "allow communities to have a greater say in their neighbourhoods and areas".
However, all of Holyrood's opposition parties - along with the local government committee - raised concerns about the bill as it was initially drafted.
Many MSPs made it clear that they only voted it through at stage one in the Holyrood chamber so they could make "serious changes" at stage two, back at committee level.
And make changes they did - more than 230 of them, many via contested votes, in a marathon bit of legislating spread across seven meetings. In more than a few cases, the opposition MSPs on the committee forced through changes against the wishes of the SNP minority.
So what are the key alterations that have been made?
Music venues
Amendments were passed to include the "agent of change" principle in the bill, which requires developers moving into areas containing music venues to pay for any soundproofing needed.
At present, the cost of mitigating noise impacts on neighbouring residents and businesses falls on the premises making the noise - even if it has been in the area long before the new housing or business developments appeared.
Both Labour and the Conservatives have taken credit for the move, having both passed amendments
Tory member Adam Tomkins said: "It's only fair that developers looking to build in an area take responsibility for any impact on existing businesses, and I'm very pleased that colleagues across the party divide share this view."
Labour's Lewis Macdonald added: "The outcome of today's vote will change the future for many venues currently facing the threat of closure, and is an important step in protecting these venues and the night time economy they help support."
Short-term lets
Green MSP Andy Wightman managed to pass an amendment requiring people to get planning permission if they want to convert their home into a short-term let.
The proposal would not stand in the way of people letting out a spare room, but would apply when they seek to turn an entire property into a holiday let.
Mr Wightman argued that "the uncontrolled and rapid rise in short-term lets in our cities and our rural communities is depriving families and individuals of badly-needed long-term homes".
Mr Stewart said he was "very sympathetic to the intention behind the amendments", highlighting "concerns about the effects on long-term communities of houses and flats being used for short-term letting". However, he said there were "significant difficulties with the wording".
The amendment was passed despite the committee's three SNP members voting against it, while Mr Wightman agreed to bring back a further amendment on the same topic for discussion at stage three.
Land value capture
Conservative MSP Graham Simpson amended the bill to include a "land value capture" system for use inside the new local planning zones.
This is a scheme based on the fact that the value of a piece of land tends to shoot up once planning permission has been granted for development on it.
The amendment passed would give councils the power to include provision for compulsory purchase of land inside new "masterplan consent areas", where development is encouraged.
This would mean that councils could buy land for what it is worth based on its current use, rather than a value inflated by what it might be used for in future. That way public bodies can benefit from any increase in value, potentially to pay for infrastructure or other extras.
Mr Wightman said: "A classic example is the waterfront in Edinburgh where there are swathes of vacant land that have been allocated for housing for years. Developers have been biding their time while the land value rises and the city's housing crisis worsens.
"This land should be available for the council to buy at its current value so it can get on with the job of building affordable housing for ownership and rent."
Amendments on this passed despite SNP members opposing them, with Mr Stewart arguing that while the government is "interested in the concept of land value capture", it could wait until next spring when the Scottish Land Commission is due to report back on the matter.
Local development plans
Local development plans (LDPs) are set out by planning authorities - usually councils - every five years, and identify sites for new projects and set out policies that help guide decision-making at a local level.
The planning bill aims to streamline these - so that they need to be produced every 10 years, rather than five, and making them a bit easier to produce - while designing them to reflect community priorities better.
Opposition parties proposed a number of changes to how this system would work, to include more involvement and protections for communities.
The Greens amended in a requirement for planning authorities to consider the provision of public toilets and water refill stations as part of LDPs.
Labour also managed to add a section requiring planners to consider if there are sufficient "play opportunities" for young people in local areas.
Third-party right of appeal
This is a big one which failed to make its way into the bill at stage two - but that we probably haven't heard the last of.
The planning system as it stands is primarily conducted between the applicants (the first party) and the local authority (the second). Some campaigners want local people or communities to be allowed to appeal against planning decisions as a third party.
Labour's Monica Lennon insisted that her amendments to this end were not a boost for "not in my back yard" types, but were about improving community involvement in the planning process.
However, the government does not support third-party right of appeal, with Mr Stewart telling the committee that additional appeals could "add time, complexity and conflict to the process", centralise decisions and deter investment.
The SNP were able to knock down Labour's amendments when the Conservatives abstained on the votes, with Mr Simpson saying his party was split on the matter and would come to a decision by stage three.
He said that while the system must be changed, he recognised concerns that allowing third-party right of appeal would "slow up an almost snail's-pace system".