Scottish Twitter 'has a problem with bots'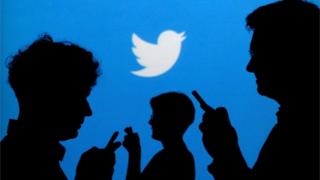 Twitter users in Scotland are a "clear target" for bots operated by hostile foreign states, a report commissioned by an SNP MEP has found.
The report estimated that somewhere between 4% and 12% of Scottish Twitter activity is "potentially malign".
Much of this potentially fake activity centres around independence and Brexit, the report said.
But despite this, the report said Scotland's social media usage remains "largely positive".
The study was carried out by Metropolitan Police inspector turned investigative journalist and author JJ Patrick, who was commissioned by the SNP's Alyn Smith.
The report was published to coincide with the launch of a new website aimed at helping people learn whether a Twitter user is real or not.
What are bots?
For the purposes of the report, the term "bot" includes fully automated Twitter accounts, as well as partly automated accounts which rely on human input part of the time and human accounts which are operating to instructions and reporting back on progress - for example to a foreign state.
A "malign bot" is an account which is aimed at deliberately influencing public discourse by amplifying false, inaccurate or dangerous information.
A "benign bot" is one which can be irritating or revolting but is not aimed at influencing public discourse or voter behaviour - for example accounts that are related to porn.
What does the report say?
The study examined a weighted sample of Twitter accounts and tweets, and concluded that 4.25% of Scottish Twitter activity is identifiable as potentially malign - although this rises to a maximum of 12.24% in an assessment of certain account types.
Of the 36.4 million tweets analysed, a potential maximum of 4.2 million could be malign.
The report said that Russia is discussed almost as much as a second independence referendum on Scottish Twitter, closely followed by the #DissolveTheUnion hashtag - with malign bots focusing on Brexit and Dissolve The Union messaging.
It also uncovered evidence of "hostile state-led interference" centred around former first minister and SNP leader Alex Salmond.
It said this was linked to Mr Salmond presenting a TV programme on "known hostile actor Russia Today", and that "suspected hostile Russian trolls in the US were identified pushing Scottish topics as a result".
The research also found that Catalonia featured heavily alongside a push for Scotland to make a unilateral declaration of independence in June 2017 - ahead of the disputed Catalan independence vote in October of that year.
'Foreign activist accounts'
The report stated: "The topic was partly driven into Scottish Twitter by foreign activist accounts, including currently absent international figures of concern.
"External studies of fake news and bot targeting of Catalonia have established a significant degree of hostile state activity in stirring the crisis, partly in order to manipulate and provoke crises elsewhere but also to distract security services.
"This (and previous) research shows clear evidence Scotland was targeted and impacted by this activity".
The report also found clear evidence of external botnets - managed groups of bots - aimed at Scottish Twitter which were "signalling for independence but messaging against the SNP".
The majority of these accounts were created after the 2014 Scottish independence referendum, but before the 2015 general election. They are currently dormant, with locations set across the world.
But it found that Scottish Twitter is positive in general, with "life" being the most used word in account profiles. The arts also feature heavily, alongside gin.
What were the author's conclusions?
The report says that Scotland is a "clear target for hostile state and non-state actors" because of its position as an "independent nation operating under devolved power arrangements during a time of crisis from the United Kingdom".
It predicts that this malign activity will increase, rather than decrease, over time.
The report concluded: "Scottish Twitter does have a problem with bots, both malign and benign, and the scale of the problem is quantifiable.
"This does have some impact on Scottish public discourse and there is influence exerted both on and off social media.
"However, Scotland (and its social media usage) remains largely positive with a central focus on living life to the full."
Can anything be done about the problem?
The report says that "simple changes" can make Twitter safer for users in Scotland and across the world.
These changes could include:
Twitter taking charge of geo-locations rather than allowing users to set their own. A profile would then be forced to show a confirmed national geo-location in green, or a lack of confirmed geo-location in red
Twitter should introduce an option whereby a user can confirm their identity using state ID, in exchange for a Scotland verified status
Twitter should geoblock any and all accounts found failing a three stage assessment and should engage in the process of automating this process.
The report states: "The presence of malign bots on the platforms will continue as long as social media exists unregulated.
"This does impact on public discourse and does influence even voting behaviour.
"Politicians need to lead the debate to solutions, because the question is no longer if bots are real but whether they should operate unchecked."
What has Alyn Smith said about the report?
Mr Smith said there had been moments where Scottish twitter had not rung true, such as the SNP MP walkout from Westminster, or the Catalan referendum.
He explained: "Suddenly I've received a dozen tweets all saying the same thing, with spurious arguments suddenly appearing as if out of nowhere.
"I do not have enough evidence to point any fingers in any particular geographic or political direction, nor does this report, but it does show that there is an issue we all need to work on and that online everything is not necessarily what it seems."
The MEP added: "We have to be honest too. The levels of abuse have noticeably increased in recent years and as an out gay pro EU Nat I'll hear no lectures from anyone about cybernats.
"All Scottish discourse is infested by a small minority who just want to crash things and we'll all benefit from upping our digital literacy."