Goat kill hunter attacks 'ignorant people'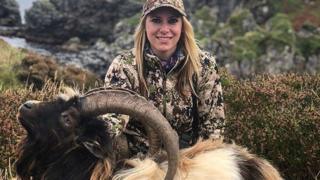 An American TV host who sparked anger after shooting a wild goat on Islay has criticised "ignorant people" who sent her death threats on social media.
Larysa Switlyk, who presents the Larysa Unleashed programme, posted pictures of herself posing with the dead goat on a hunting trip to the Scottish island.
The hunt was legal - but sparked outrage on social media.
The thousands of replies sent to Ms Switlyk included some calling for her to be killed.
Ms Switlyk is understood to have been in Scotland a month ago, but only posted the pictures of the dead goat on Tuesday.
Previous posts showed her posing next to a dead sheep on Islay, and a dead stag that was shot in Ardnamurchan.
'Next adventure'
In an Instagram and Twitter post on Thursday, she remained unrepentant despite the anger over her hunt - which led the Scottish government to say it was examining whether the law needs to be changed.
Ms Switlyk posted a picture of a seaplane alongside a caption saying she was heading off on her "next hunting adventure".
She said: "My ride has arrived - I'm headed out on a bush plane for my next hunting adventure and will be out of service for 2 weeks.
"Nothing better than disconnecting from this social media-driven world and connecting back with nature.
"Hopefully that will give enough time for all the ignorant people out there sending me death threats to get educated on hunting and conservation. FYI, I was in Scotland over a month ago..."
Several tourism companies offer the chance to stalk and shoot wild goats in Islay, Dumfries and Galloway and other parts of the UK.
The animals, which have no natural predator, are classed as an invasive, non-native species in the UK, and hunting them on private land is not illegal.
There are thought to be more than 3,000 of the animals living in herds across the UK.
Controversial culls have been carried out in some areas to reduce their numbers, while contraceptive darts have also been used to stop the animals reproducing.
In the tweet which sparked the furore, the presenter - who is described on her website as a hardcore huntress - wrote: "Beautiful wild goat here on the Island of Islay in Scotland. Such a fun hunt!! They live on the edge of the cliffs of the island and know how to hide well.
"Made a perfect 200 yard shot and dropped him (Good thing too because he could have ran off the cliff into the water)."
The Scottish government's Brexit secretary, Mike Russell, told BBC Scotland on Wednesday that the posts were "horrific", and called for the hunting of goats on Islay to be stopped immediately.
Mr Russell. the MSP for the island, also insisted Ms Switlyk's goat hunting was worse than the hunting of red deer, which he said was "very firmly regulated" and "you don't see people glorifying in it very often."
About 30,000 deer are shot every year on public land on Scotland - the vast majority by wildlife rangers and contractors and about 3,500 by "recreational stalkers" - with many more being shot on private estates.
BBC Scotland has launched a new podcast exploring the big political issues of the week at Holyrood and Westminster. This week's episode of Podlitical includes discussion of goat shooting, alongside first minister's questions, the tone of political debate and Theresa May's future. You can also download it and subscribe wherever you get your podcasts.
The Scottish Country Sports Tourism group said country sports tourism was worth £155m to the Scottish economy every year.
But the OneKind animal cruelty charity said that "seeing these beautiful animals exploited in the name of sport" was "not the kind of tourism we should be encouraging in Scotland, let alone allowing to happen in the 21st Century."
The Larysa Unleashed website says the presenter "promotes the outdoor lifestyle, offering a taste of the adventure as she blossoms into a hardcore huntress.
"Along the way Larysa wants to encourage the public, especially kids and females, to go hunting and experience the great outdoors.
"Whether it's teaching them to shoot a gun for the first time, or hunting alongside her for an amazing trophy, it will be nothing less than an extreme adventure".