Day of the deputies at Holyrood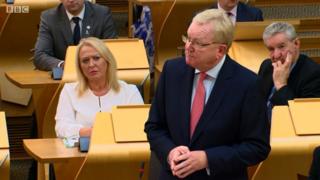 Deputies deputise - and so it fell to Jackson Carlaw today to pose questions on behalf of the Conservatives to the first minister.
His boss, Ruth Davidson, is on leave, pending motherhood. It is to be hoped that all goes well for her and her soon-to-emerge offspring.
So how did Mr Carlaw perform? Rather effectively, as it happens. Of course, he is scarcely a beginner, being wily in the ways of parliament.
But, even so, stepping up to the prime role can be a challenge. He contrived to keep his famous/notorious humour to a tolerable level - and pursued, with diligence and knowledge, the deeply serious topic of mesh implants and their damaging impact on women.
Mr Carlaw even chalked up a victory, gaining an assurance from the first minister that her government would assess the provision of Blue Badge parking passes for women whose mobility has been hampered by the implants.
Throughout, he appeared relaxed and confident. So much so that he even declared that he liked the first minister. While still intending to pursue her with vigour during his temporary period in office.
And did Nicola Sturgeon respond in kind? Friends, she did not. These may be strange times, politically, but we have not yet reached the stage where the leader of the SNP can cheerfully vouchsafe affection for a Tory.
In general, the questions posed relatively few hazards for the first minister. She rebutted Richard Leonard's complaints, from a Labour perspective, about health care provision, as disclosed in an Audit Scotland report.
Ditto with Willie Rennie of the Liberal Democrats, who noted that ministers had broken self-imposed laws on health targets around 100,000 times. Such recidivism, he noted, would land any ordinary lag with a spell in Barlinnie.
A little wearily, Ms Sturgeon said he let himself down with such triviality. Myself, I thought it rather effectively drew attention to the poor governance record. Or the futility of statutory targets. Or both.
For the Greens, Patrick Harvie demanded higher pay for teachers. All teachers, not just certain categories. Ms Sturgeon said talks would continue to seek a deal which was both fair and affordable.
Swinney's test
Still with education, John Swinney offered his response to the parliamentary vote to scrap assessments for Primary One pupils.
Did Mr Swinney bow to the will of Parliament? He did not - but rather announced an independent review of the system, to report by the end of May.
However, his tone was notably - markedly - more emollient than in other contributions. That is because he faced a test of his own.
The SNP have a vested interest in promoting the potency of the Scottish Parliament. They want its decisions to matter. Indeed, they want Holyrood to take more decisions, not fewer; to extend into independence.
But, on his other shoulder, Mr Swinney heard an alternative voice, whispering into his ear. To the effect that the policy of assessments remained the right one, even for the youngest pupils.
Hence the review. The response from the Conservatives, delivered by Liz Smith, was relatively constrained - although she did take the chance to protest at the language used by Mr Swinney in his party conference speech when he had excoriated the Tories for executing a U-turn.
Without withdrawing his comments, Mr Swinney argued, gently, for moving on.
There was, however, no meeting of minds whatsoever with Labour's Iain Gray - who bellowed his fury that parliament's will was being defied. Mr Swinney roared back with an accusation that Mr Gray was only interested in politics, not pupils. Mr Gray seethed, indignantly.
The upshot? The assessments remain in place. For now.