Row over Tory MSP's defence of child cap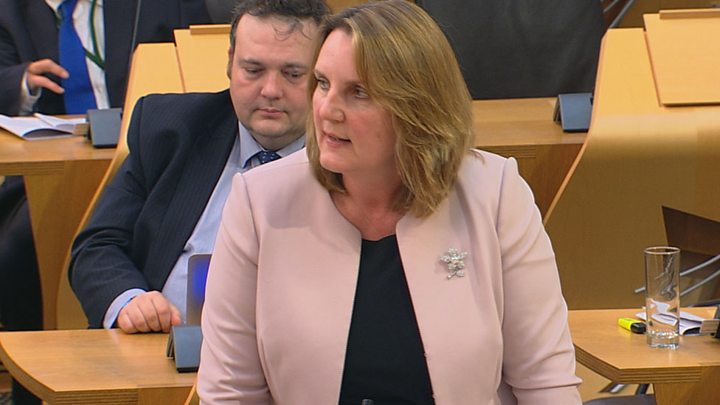 A Conservative MSP has sparked a row at Holyrood with her defence of controversial welfare reforms.
Michelle Ballantyne came under fire after arguing that the two-child cap on child tax credits was "about fairness".
She said that "it is fair that people on benefits cannot have as many children as they like" while those in work "have to make decisions" on this.
SNP MSP Tom Arthur described this as "offensive" and "one of the most disgraceful speeches I've ever heard".
And Scottish Labour leader Richard Leonard said the comments were "abhorrent, nasty and archaic".
MSPs were debating austerity, poverty and inequality at Holyrood when Ms Ballantyne mounted a defence of welfare changes including Universal Credit.
The new system, which merges six benefits into one payment, has been beset with problems and has come in for increasingly strong criticism from opposition parties.
On Wednesday, Labour leader Jeremy Corbyn said people would be "worse off" under the it, while First Minister Nicola Sturgeon told MSPs that the policy was an "unfolding disaster".
But Ms Ballantyne, MSP for South Scotland, argued that Universal Credit was "working for the many", and called it "a key part of reducing inequality in this country".
The welfare reforms include limiting tax credits to a family's first two children, with an exemption for children conceived as a result of rape - the so-called "rape clause" which has been criticised repeatedly by opposition parties.
After being challenged to defend this, Ms Ballantyne said the two-child cap was "about fairness".
She said: "It is fair that people on benefit cannot have as many children as they like while people who work and pay their way and don't claim benefits have to make decisions about the number of children they can have.
"Universal Credit may have its flaws, but the thinking behind the system is sound. It is about making it better to be in work than not to be in work."
'Victorian moralising'
Other parties condemned Ms Ballantyne's comments, with the SNP describing them as "staggeringly offensive".
Mr Arthur said: "In my two and half years in this parliament, the contribution from Michelle Ballantyne was one of the most disgraceful speeches I have ever heard. Six minutes of pompous Victorian moralising, that would have been better suited to the pages of a Dickens novel.
"And to suggest that poverty should be a barrier to a family, that people who are poor are not entitled to any more than two children - what an absolutely disgraceful position."
And Mr Leonard said the comments showed the true views held by senior Tory MSPs were "nasty and archaic".
He said: "The reality is that the Scottish Tories stand behind every blow of austerity and every cruel welfare cut that has been implemented by the UK Tory government - from the bedroom tax to the rape clause. These comments should be retracted and Michelle Ballantyne should apologise."