Independent review ordered into P1 assessments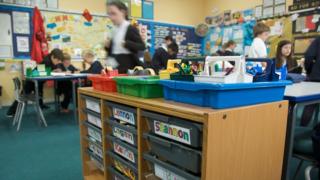 An independent review is to be carried out into whether standardised assessments should continue to given to Scotland's P1 pupils.
Education Secretary John Swinney continues to defend the tests, but said the "independent, evidence-led review" would determine their future.
Opposition parties accused Mr Swinney of "defying" the will of parliament.
MSPs voted for ministers to "halt" the tests earlier this year after criticism from some parents and teachers.
Announcing the review at Holyrood on Thursday afternoon, Mr Swinney said it could ultimately back his view that the assessments should be "reformed not abolished", but said it "might" recommend that they be scrapped altogether.
This year's assessments will continue while the review is carried out.
Standardised assessments were introduced in 2017 in a bid to gather more data about the stages children have reached in their learning, with literacy and numeracy tests carried out at P1, P4, P7 and S3 level.
Opponents say the P1 assessments are not in line with play-based learning and do not provide teachers with valuable data. There have also been claims that some younger children have been left distressed by the experience.
MSPs voted by 63 to 61 in September to pass a Conservative motion calling for a "halt" to the assessments for the youngest pupils, with opposition parties uniting to defeat the government.
The motion was largely symbolic and does not bind the government to any action, but opposition members called on minsters to "respect the will of parliament" and scrap the tests.
Mr Swinney acknowledged the concerns raised by parents, teachers and opposition parties.
But he defended the assessments as "an effective additional tool to support teachers' professional judgement".
He said the review would look at:
whether the tests are compatible with the play-based learning aims of the curriculum
the effect they have on children
the usefulness of the information they provide to teachers
what their future should be.
The education secretary confirmed that this "might" result in the tests being scrapped, but said the review would introduce an "evidence-based approach" to the assessments which he claimed has been missing from previous political debates.
'Evidence-based review'
Mr Swinney said: "It is important to further evaluate how the assessments are working which is why I have decided to commission an independent review of P1 assessments to reconsider the evidence.
"While an independent, evidence-based review could conclude that P1 assessment should be reformed, the review could also recommend a halt to the assessments."
The Educational Institute of Scotland (EIS) union said it was good that Mr Swinney was "open to evidence" about the tests, but said that "perhaps a review of the evidence before the introduction of the tests would have been more appropriate".
General Secretary Larry Flanagan added: "EIS members have serious reservations over the educational value of standardise assessments at all stages, but particularly in relation to testing of four and five year old children. We are disappointed therefore that a delay has been engineered around a decision to end compulsory P1 assessments."
Opposition parties were not won over by Mr Swinney's approach, questioning whether he was respecting the vote held at Holyrood in September.
Conservative education spokeswoman Liz Smith raised the fact that Mr Swinney had called opposition parties a "disgrace" over the issue at the SNP conference, and asked whether he also thought teachers who had raised concerns were a disgrace.
Mr Swinney urged MSPs to "move on from the political debate" and concentrate on "educational arguments".
Labour's Iain Gray said "Mr Swinney's problem is that he lost the education argument", asking "what on earth" gave him the right to "defy" the will of parliament.
He said: "John Swinney demands that we focus on educational arguments, when that is exactly what we did in reaching the conclusion we did a month ago. Parliament listened to teachers, parents and the educational arguments and voted accordingly."
The cabinet secretary hit back that it was Mr Gray who was "only interested in politics".
Green MSP Ross Greer said the review "cannot be limited in scope" and should have "all options" on the table, while Lib Dem Tavish Scott said it must not be another "whitewash".