Sturgeon boycotts event in far-right row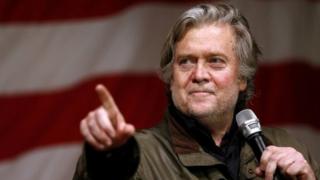 Nicola Sturgeon has pulled out of a conference in Edinburgh next month because Donald Trump's ex-strategist Steve Bannon was also due to speak.
The first minister had been scheduled to take part in the three-day News Xchange event, which is being co-hosted by the BBC, on 13 November.
However, she said that giving Mr Bannon a platform risked "legitimising or normalising far-right, racist views".
Steve Bannon was one of Donald Trump's most trusted aides until August 2017.
He left the US government after losing his seat on the National Security Council amid claims of a power struggle among President Trump's top team.
'Balanced judgements'
Since leaving the White House, Mr Bannon has continued to champion right-wing political causes, although his appearance at events has proved controversial.
In September he was disinvited from the New Yorker Festival after a high-profile backlash by actor Jim Carrey, producer Judd Apatow and presenter Jimmy Fallon.
Nicola Sturgeon was due to be introduced by the BBC's Scotland editor Sarah Smith on the opening evening of the conference on 13 November.
Steve Bannon is expected to take part in a session the next morning, which is also due to be moderated by Sarah Smith at the Edinburgh International Conference Centre.
'Influential figure'
In a tweet, Ms Sturgeon said she regretted the position she had been put in by the BBC.
She said: "I believe passionately in free speech but as @ScotGovFM I have to make balanced judgments - and I will not be part of any process that risks legitimising or normalising far right, racist views. I regret that the BBC has put me and others in this position."
She also attacked the event's description of Mr Bannon as a "powerful and influential figure...promoting an anti-elite movement."
She added: "This kind of language to describe views that many would describe as fascist does seem to me to run the risk of normalisation."
In a statement the BBC said Steve Bannon had been invited on behalf of the European Broadcasting Union's (EBU) News Xchange committee.
They added: "Good journalism in a world of fake news and disinformation is more vital than ever.
"Journalism is about asking tough questions and understanding what is happening in the world and why.
"A conference designed to analyse the big issues impacting that world isn't an endorsement of anyone or anything - it is a function of what journalism is."
Event organisers, the EBU, said Mr Bannon was a "key influencer" in the rise of populism.
"We also consider it our journalistic responsibility to share and scrutinise a range of relevant viewpoints within the framework of a balanced debate", they added.