Economist questions Scotland's NHS spending plans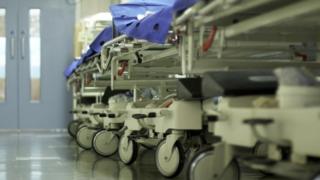 The Scottish government has defended its health spending plans after a new analysis suggested they were over-optimistic.
Public finance economist John McLaren argued recent projections expected too much from efficiency gains.
He called for more clarity over why proposed increases in spending were at a slower rate than in England.
The Scottish government said health spending per head remains 7% ahead of the NHS in England.
Dr McLaren's analysis, for the Scottish Trends website, is of the medium-term plans for health and social care funding.
When these plans were published recently, attention focused on the cancellation of health board debts.
The economist has now compared other parts of the plan with an independent analysis of spending in the English healthcare system.
He concluded the best comparison suggests the Scottish government estimate is for annual growth of health spending of around 3.5% in cash terms over the next five years, while in England the rise is 6.7%.
"Such a discrepancy seems untenable," he wrote.
"This confusingly-presented document appears to suggest that Scottish funding needs in this area are considerably below those estimated for England. It is difficult to see why this would be the case."
The efficiency savings assumed each year come to 1.3% in Scotland, while a like-for-like comparison for England is 0.8%.
Dr McLaren found price inflation in Scotland is assumed at about 2.3%, while in England it is closer to 4% in cash terms. The English figure is seen as closer to the historical trend.
Ageing population
Growth in demand for health services due to demographic change is seen in England as 3% per year, and in Scotland as 1%.
That partly reflects lower immigration levels for Scotland, but the population is ageing at a faster pace in Scotland, bringing a faster pace of growth in spending per head.
"The lack of any serious challenge to the Scottish government's plans and announcements in this area is starting to be felt," according to Dr McLaren.
"At present almost all independent analysis of future health care needs is done at the English level with little or no consideration of the different circumstances observed in Scotland, Wales or Northern Ireland.
"This is a consequence of a variety of factors including the lack of funding available to fund Scottish think tanks, lack of in-depth media analysis, lack of academic involvement and a lack of medium term planning analysis by NHS Scotland."
The Scottish government said its health spending per head of population was already higher, and an extra £850m was being spent in Scotland.
A spokesperson said: "Our financial framework, which has been welcomed across the service and by independent experts, outlines both investment in and reform of our health and social care sector."