November date set for Brexit court case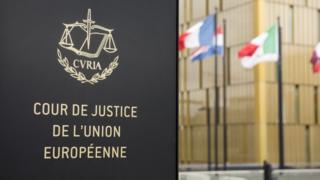 The European Court of Justice (ECJ) will consider next month whether Brexit can be halted if MPs vote to do so.
The case, which has been brought by a group of anti-Brexit politicians and campaigners, was referred to judges in Luxembourg by the Court of Session in Edinburgh.
The ECJ confirmed on Friday that it had been granted "fast-track" status due to the "urgency of the issue".
The UK is due to leave the European Union on 29 March next year.
Jolyon Maugham QC, who is one of the people who brought the case, said the ECJ hearing would now take place on 27 November.
Politicians including Scottish Green MSPs Andy Wightman and Ross Greer, Labour MEPs David Martin and Catherine Stihler and SNP MEP Alyn Smith are also involved in the case.
They have argued that Brexit is "not inevitable" and "there is still time to change course".
The petitioners argue that the UK should now effectively be allowed to change its mind on Brexit, without needing the permission of the other 27 EU members.
If it is successful, their case could strengthen the hand of any attempt by MPs to keep the UK in the EU after the final details of its departure terms are known.
This is because it would give parliament the power to unilaterally halt Brexit if it feels any final deal - or no deal - is unacceptable, even if the government wants to leave regardless.
The UK government has previously said it was "disappointed" by the decision by Court of Session judges to refer the case to the ECJ, and was giving their ruling "careful consideration".
But a spokesman stressed that the government remained committed to implementing the result of the EU referendum and "will not be revoking Article 50."