Scottish health board debts to be written off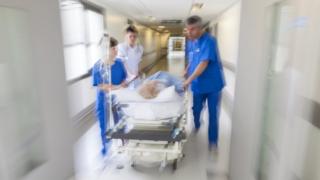 Scotland's NHS boards are to have their debts written off as part of a "new deal" for their financial planning.
Auditors had raised concerns about the financial health of some boards, which have taken millions of pounds of loans from the government to break even.
Health Secretary Jeane Freeman told MSPs that a new three-year budgetary cycle will begin from 2019-20.
And health boards will be given a "clean sheet" at the start of this, with all prior loans written off.
If they are able to break even over the three-year cycle, the boards will be given the flexibility to over- or underspend by up to 1% of their budget each year.
This is a change from the current system of budgeting for one year at a time.
Audit Scotland voiced "serious reservations" about the finances of NHS Highland and NHS Ayrshire and Arran, while NHS Tayside has also relied heavily on "brokerage" loans from the government.
Ms Freeman told MSPs that boards had been given about £150m of brokerage in the past five years, including that given out this year.
However they will be given a "clean slate" to start the new system - the "medium term financial framework".
Ms Freeman told MSPs: "I want all boards to be able to focus their attention on delivering the measures set out in the health and social care delivery plan and this financial framework, and to do so in a safe and appropriate way - making sure they maintain a strong focus on patient care and the delivery of the services to patients that is safe, effective, person centred - and timely."
The health secretary also told members that extra funds handed to Holyrood as a result of increased health spending at Westminster - Barnett consequentials - would go straight on into the health service.
However, the Scottish Conservatives claimed Scottish health boards were being "short-changed" by ministers.
Health spokesman Miles Briggs said health spending was rising faster south of the border, and voiced fears of "cuts and centralisation" in Scotland.
Ms Freeman contested this, saying health spending was 7.1% higher in Scotland than in the UK as a whole, saying the government was "short-changing no-one".
Scottish Labour welcomed the new framework, with health spokesman Anas Sarwar saying it would give boards more time to plan their finances.
However he questioned how much it would cost to write off loans which he said were needed due to "financial mismanagement".
Green MSP Alison Johnstone also welcomed the move, while Lib Dem Alex Cole-Hamilton raised questions about whether the plans would end the issue of delayed discharge from hospitals.