Tourism bosses issue visitor tax warning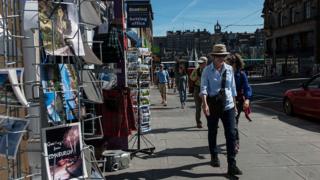 Industry bosses have warned a tourist tax could send businesses "off a cliff" and result in a drop in the value of the sector to the Scottish economy.
The head of UK Hospitality said the introduction of a £2 levy per night for visitors to Edinburgh could cost business £175m in the capital.
The comments come after the Scottish government ordered a consultation into plans by local councils for a tax.
Edinburgh claims it could raise an extra £11m a year for the city.
The City of Edinburgh Council has already launched its own consultation on a so-called Transient Visitor Levy to be paid year-round by visitors. It would be set at either 2% or £2 per room, per night, for all types of accommodation.
But speaking to Holyrood's tourism committee, William MacLeod, executive director with UK Hospitality Scotland, said: "I don't think there has been any real assessment of why such a tax would be required."
He added: "Our view is that £2 per night, per room, could result in reduced turnover of £100m for the accommodation sector and £75m in reduced spend elsewhere in the tourism economy."
His sentiments were echoed by Marc Crothall, chief executive of the Scottish Tourism Alliance.
He told the committee: "As we enter the unchartered waters of Brexit, the risk of actually getting to a tipping point where a tax is collected, from that particular audience, could send many businesses over the cliff."
He added: "The world is a small place, Scotland is a very small place, we need to be competitive."
'Public toilets'
Local authorities in the Highlands have also expressed an interest in a tourist tax.
The tourism committee was told last month that the six million annual visitors to the region were worth £1.2bn and supported 20,000 jobs.
However, the area's popularity has put pressure on roads, parking and public toilets, the committee was told.
Supporters say a future tourist tax would be used to pay for improvements and ensure tourists had access to quality facilities.
Ordering a Scotland-wide consultation into the impact of a tourist tax, Nicola Sturgeon told delegates at the Scottish Tourist Alliance conference that she would "examine in detail the arguments for and against a tourism tax", saying ministers were "determined that all voices will be heard".
'Tide of tourists'
Fiona Campbell, from the Association of Scotland's Self-Caterers, welcomed the government's consultation, but emphasised the need for "an industry-wide discussion and a robust economic impact assessment".
Peter Irvine, of Unique Events, also welcomed the consultation, but suggested there were voices not being heard.
He told the tourism committee: "I came into this debate initially as a board member of Festivals Edinburgh and as the years went by I started to wish the accommodation sector put something into it."
He called Edinburgh an "exceptional case" and said residents in the city were aware of the "extraordinary tide of tourism".
But Mr Irvine called for a "holistic approach", of which a tourism tax was just one part.