December date set for Scottish budget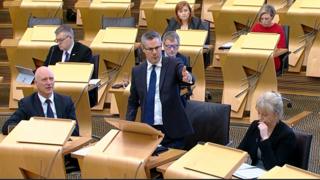 The Scottish government is to set out its draft budget for the coming year on 12 December, it has been confirmed.
Finance Secretary Derek Mackay said he was looking forward to unveiling a budget that "works for Scotland" when he sets out his tax and spend plans.
The minority SNP administration will need to secure the backing of at least one other party if it is to pass its budget.
The government agreed a deal with the Scottish Greens last year.
But the Greens have previously said they will not enter into talks over this year's budget if the government "continues to stall" on local tax reforms.
And another potential partner, the Liberal Democrats, say they will not support the budget unless First Minister Nicola Sturgeon rules out a second independence referendum.
Income tax
The Scottish government has an annual budget of about £33bn.
Last year's budget included major changes to Scotland's income tax rates and bands, which saw middle and high earners pay more and lower earners pay less.
Chancellor Philip Hammond confirmed last week that the UK budget will be on 29 October - exactly five months before Britain is due to leave the EU.
Mr Mackay had faced calls from the Scottish Conservatives to publish his draft Scottish budget in mid-November to allow more time for scrutiny by Holyrood.
But the finance secretary said: "In normal circumstances, the Scottish government is provided with 10 weeks' notice from the UK government of its budget date, however the announcement by the Chancellor on 26 September provides less than five weeks' notice of the date of the UK budget.
"The Scottish Budget date of 12 December has been agreed with the Scottish Parliament's Finance and Constitution Committee to allow due consideration of the necessary 10 week Scottish Fiscal Commission lead times and the need for Parliament Subject Committees to complete their pre-budget scrutiny.
"I look forward to working with the finance committee and the parliament to secure a budget that will work for Scotland."