Sturgeon orders consultation on Scottish tourist tax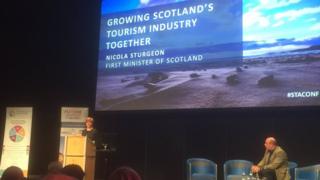 A consultation into allowing councils to set a local "tourist tax" has been ordered by First Minister Nicola Sturgeon.
Some Scottish councils, led by Edinburgh, have called for powers to set levies on tourist accommodation.
The Scottish government has opposed the policy, but hinted that it could be open to changing this as part of budget talks with opposition parties.
Ms Sturgeon announced the study at the Scottish Tourism Alliance conference.
She told delegates she was "absolutely determined" that the voice of the tourism industry was heard in the debate.
The STA had been arguing for more engagement, saying that "the interests of the hospitality and tourism industry must be fully taken into account through consultation".
Edinburgh City Council, which has been leading the push for what it calls a "transient visitor levy", is holding a consultation of its own on plans to charge £2 per room, per night, for all types of accommodation.
The local authority says this would raise an extra £11m a year on local services to manage the impact of tourism on the city.
The Scottish government had been firmly against allowing councils to set such a tax, saying earlier in the summer that it had "no plans to introduce a visitor levy on the tourism sector, which is already subject to the second highest VAT rates in Europe".
However, this position has begun to soften, with Ms Sturgeon telling MSPs at Holyrood last week that ministers would "consider the matter and listen to all the arguments before we come to a decision".
And Ms Sturgeon told the STA conference in Edinburgh on Monday that the issue requires "very careful consideration".
While reiterating that there are currently "no plans to introduce a tourism tax", she said the government would accept the STA's call for an "objective process of consultation".
She said this would "examine in detail the arguments for and against a tourism tax", saying ministers were "determined that all voices will be heard".
'Staggering u-turn'
The Scottish Conservatives said it would be a "staggering U-turn" were the government to decide to back a tourism tax, urging ministers to "listen to those most affected and those who will be administering this tax".
Culture and tourism spokeswoman Rachael Hamilton said: "Tourism businesses and organisations have been quite clear that a tourism tax would reduce Scotland's competitiveness and hurt our economy.
"The fact is that the tourism tax could well cost more to administer than it will generate, further undermining local authority finances."
Labour and the Greens have both campaigned for a tourism tax, with both parties raising the matter at Holyrood in recent weeks.
Labour said the consultation "must not be an excuse for the government to kick this issue into the long grass".
Communities spokeswoman Monica Lennon said: "The industry generates billions every year - the idea that adding a few pounds to the price of a hotel room would put the industry at risk simply isn't credible.
"Local services and infrastructure, starved of resources, cannot afford the SNP government to continue dragging its heels on this."