Kezia Dugdale: 'How can people trust Labour?'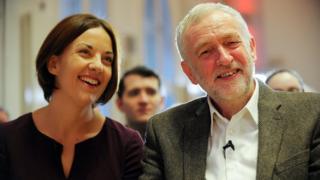 A former Scottish Labour leader has questioned how anyone can trust the party after it decided to stop funding her defence in a legal case.
Kezia Dugdale says Labour "failed to keep its promise" to pay her legal costs for a defamation action brought by a blogger.
Ms Dugdale told BBC Scotland she believed the decision had been made on political grounds.
The Daily Record has since said it will now give legal support to Ms Dugdale.
Labour said it had to "spend members' fees responsibly and appropriately", with the party's current Scottish leader, Richard Leonard, saying the decision is unlikely to change.
But in a statement, Ms Dugdale's fellow Scottish Labour MSPs said they offered their "full support and solidarity for Kezia in the case".
Ms Dugdale is the subject of a defamation action by Stuart Campbell, who runs the pro-independence blog Wings Over Scotland, after she branded one of his tweets "homophobic" in a column for the Daily Record.
The UK Labour Party had previously paid for Ms Dugdale's representation in court, but has now cut this off.
Ms Dugdale said it had been "pretty crushing" to learn through her solicitor that the party was not going to continue funding her in the case, which had left her not knowing how she was going to continue defending herself.
'Not a good look'
She said: "First and foremost, the Labour Party made a promise and it's not a good look for any political party to fail to keep its promise.
"And this is what it's doing to one of its own, so how can people trust that party in any other aspect of life if this is what's happening? I think there is a real presentational problem for the party in that regard.
"Also, this is a party that is fundamentally about fairness, equality and justice and they put me in the most horrendous position. I really hope that they change their minds."
She said there was "anger across our movement" as the case was about "politicians' ability to say what they think and for people to have their backs when they do so".
Ms Dugdale opposed Jeremy Corbyn during the Labour leadership contest but insisted she had a "good relationship" with him afterwards.
But she accused Mr Corbyn of ignoring her messages after the party withdrew its funding - a decision she is convinced was made because her views on issues such as Brexit are at odds with the Labour leadership.
Ms Dugdale added: "I genuinely think that this is a political decision. People don't like the truth I'm speaking about Brexit and the damage that it's going to do to Scotland and the UK economy."
BBC Scotland understands that the Daily Record has agreed to cover Ms Dugdale's legal costs - but if she loses, she will have to pay the £25,000 that Mr Campbell is seeking, as well as his legal costs, which could be six figures in total.
However, Ms Dugdale dismissed speculation that she might quit Labour over the row, insisting that she is "Labour through and through" and that Mr Leonard has her full support as Scottish Labour leader.
A Labour Party spokesman said: "Kezia Dugdale has received significant support from the Labour Party. The party has a responsibility to all our members and that must mean spending our members' fees responsibly and appropriately.
"We have to present and campaign around our message of hope and the need to rebuild Britain and that is where we believe our members wish to see their fees spent."
Mr Leonard has previously told BBC Scotland that he understood that some people were upset with the decision to stop funding Ms Dugdale in the case, but said the decision "will stick".
What is the legal action about?
The legal dispute stems from a column Ms Dugdale wrote for the Daily Record in 2017, which was critical of a tweet posted by Mr Campbell about a Conservative MSP.
He wrote: "Oliver Mundell is the sort of public speaker that makes you wish his dad had embraced his sexuality sooner."
Mr Mundell's father - Scottish Secretary David Mundell - came out as gay in January 2016.
Ms Dugdale's column said she was "shocked and appalled" about "homophobic tweets", saying that it was "utterly unacceptable for someone to face abuse because of their sexuality".
She added that "such comments are of course not unique to the man who tweets as Wings Over Scotland", saying the account "spouts hatred and homophobia towards others".
Mr Campbell subsequently launched court action, arguing that the tweet was intended "though caustic, to be jocular" and saying the politician had defamed him by suggesting he was a homophobe.
Ms Dugdale's legal team submitted to the court that the article was a "fair and honest comment" criticising Mr Campbell for "giving voice to homophobic sentiments".
A sheriff ruled in August that a full "proof" hearing should be held for arguments to be put forward, saying the blogger was "entitled to an evidential hearing".
Ms Dugdale - who wants the case thrown out - is appealing against that decision.