MSP launches bid for 20mph limit in urban areas of Scotland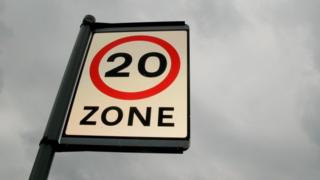 A bill proposing to lower the speed limit in built-up areas of Scotland to 20mph has been published at Holyrood.
The legislation drawn up by Green MSP Mark Ruskell has won the backing of SNP, Labour and Lib Dem members.
It proposes making 20mph the standard speed limit for urban areas, although councils could still designate 30mph areas in consultation with communities.
The bill will now go before committees for scrutiny. If passed by parliament, it could become law by the end of 2019.
Mr Ruskell's members bill - the Restricted Roads (20mph speed limit) (Scotland) Bill - has won the backing of green groups, health organisation and round-the-world cyclist Mark Beaumont.
It was also backed by 25 of Mr Ruskell's fellow MSPs, including 12 from the SNP, seven from Labour, five Greens and one Lib Dem.
'Patchwork' system
At present. local authorities can establish 20mph zones in their areas, but campaigners say this is "time consuming and costly" to do so, and creates a "patchwork" system which is confusing for drivers.
Edinburgh currently has a number of 20mph zones, as do Fife and Clackmannanshire. However East Lothian Council has suspended bids for new speed restriction areas until a decision is taken on Mr Ruskell's bill at a national level.
Campaigners say cutting the speed limit in urban areas would result in fewer casualties on the roads as well as reduced pollution from emissions.
Friends of the Earth Scotland, the British Heart Foundation, the British Lung Foundation and road safety charity Brake have all backed the move.
Mr Ruskell said: "As a local councillor and as an MSP I have seen first-hand the frustration of communities that want lower speed limits but find the current process overly-complicated.
"By making 20 the norm in built-up areas we can end this frustration and provide the clarity that residents and motorists deserve.
"It's clear that a lower limit will mean safer streets, and I'm delighted that my bill enjoys widespread public support, the backing of safety groups, health experts, local authority chiefs and campaigners such as Mark Beaumont.
"I look forward to it being examined by parliament in the months ahead."