Nicola Sturgeon calls for Brexit to be delayed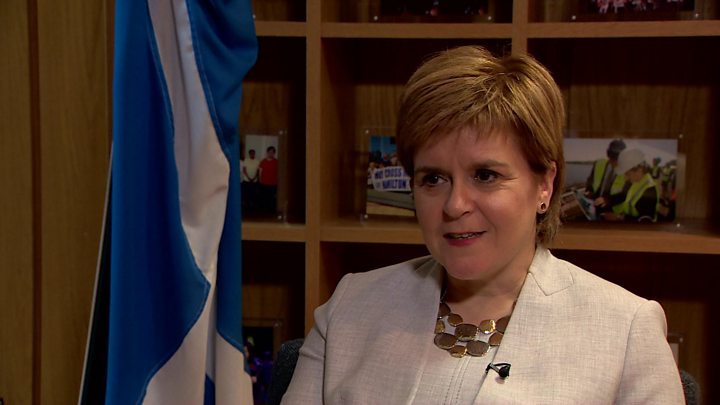 Nicola Sturgeon has called for Brexit to be delayed beyond next March if the UK has not secured a detailed agreement with the EU by then.
Scotland's first minister told the BBC it would be "absolutely reckless" to leave without knowing what will replace the country's existing relationship.
She urged the other opposition parties to back a delay if the UK faces a choice between "no deal and no detail".
Prime Minister Theresa May has already said delay is "not an option".
Negotiations over the terms of the UK's exit and future relations are at a critical stage, with about six months to go before the UK is scheduled to leave on 29 March.
Mrs May spoke to her 27 EU counterparts over dinner in Salzburg on Wednesday evening, when she told them that they must focus their minds on securing a Brexit deal in the next two months.
But European Council head Donald Tusk later said Mrs May's proposed new economic partnership with the EU "will not work".
Ms Sturgeon said that any statement setting out the future relationship between the UK and the EU is increasingly likely to be "vague and lacking in meaningful detail" - a prospect she has described as a "blind Brexit".
'Jumping off a cliff'
The first minister said this would mean: "All of the difficult issues that have defied resolution in the last two years will be kicked into the transition period, but at that point the UK will already have left the EU.
"That seems to me to be tantamount to jumping off a cliff with a blindfold on and having no idea where the landing place is. And that is in my view as unacceptable as a no deal option.
"So if that's the choice that the House of Commons faces I think it is far more in the interests of the whole UK for Article 50 to be extended so that all of the alternative options can be properly considered rather than having this choice between the frying pan and the fire."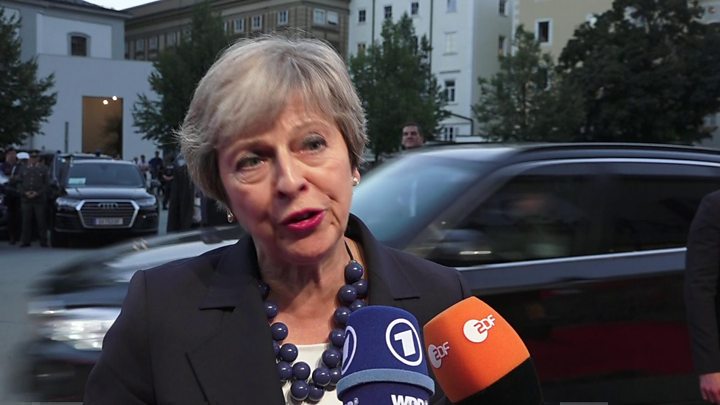 Ms Sturgeon said she could not put a timescale on how long any delay should be for, but that there would need to be "clarity for people" before the UK did ultimately leave.
The SNP is firmly opposed to Brexit, but has not yet backed calls by the People's Vote campaign for a second referendum to be held on the issue.
Ms Sturgeon said her party would not stand in the way of another vote on Brexit, and would be "happy to have discussions" with those advocating one.
But she added: "I think for me to become an enthusiastic advocate of that I would need some assurance that Scotland won't simply find itself in the same position all over again where Scotland votes to stay but the rest of the UK votes to leave and Scotland ends up being taken against their will."
In her speech in Salzburg, Mrs May stressed her "serious" proposals for future co-operation between the UK and EU would ensure a "shared close relationship".
She also told the EU leaders that her priorities were maintaining economic ties and ensuring promises to Northern Ireland were kept.
There has been speculation that the UK will put forward new ideas for regulatory checks to address the current Irish deadlock.
The other EU leaders, who have warned that time is running out for a deal to be reached, will discuss Brexit without Mrs May present on Thursday.