Scotland's migration needs 'similar to UK'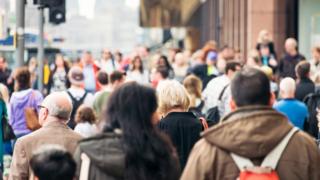 A report into the immigration system has concluded that Scotland does not need a "very different" policy to the rest of the UK.
The Migration Advisory Committee said it had no view on whether immigration should be devolved to Holyrood.
But it said it did not believe Scotland's economic situation was sufficiently different to justify radically different policies.
The Scottish government wants the power to tailor its own migration policy.
It argues that the move is necessary because of the country's ageing population, and to prevent population decline - particularly in rural areas.
'Not sufficiently different'
But the Mac report states: "Although lower migration might lead to population decline, this problem is not something that starts at the Scottish border, some Northern English regions have similar prospects.
"Migration is much less effective at dealing with a rising old age dependency ratio than increases in the pension age.
"Overall, we were not of the view that Scotland's economic situation is sufficiently different from that of the rest of the UK to justify a very different migration policy."
It says any decision on whether or not to introduce different immigration rules in different parts of the UK would be political, rather than economic.
The UK government, which commissioned the Mac report, has previously said it has no plans to devolve migration policy.
The Mac was asked to carry out the research in July 2017 by then Home Secretary Amber Rudd and is widely expected to shape the government's post-Brexit immigration policy.
Its report also says workers from the European Economic Area (EEA) should be subject to the same visa requirements as other migrants to the UK after Brexit, but does not rule out offering EEA workers preferential treatment as part of the Brexit negotiations.
It also recommends scrapping limits on higher-skilled migrants to the UK.
Responding to the report, the Scottish government's migration minister, Ben MacPherson, said that migration was "absolutely critical to Scotland's future prosperity".
He added: "However the Mac report does little to consider Scotland's needs and instead suggests that increasing the pension age would be a preferential approach to managing demographic change - a completely unsustainable position and one which we and many across Scotland would reject.
"This report will also be deeply disappointing to businesses and employers across Scotland who asked for a simple, low cost approach to migration which took into account the requirements of their sectors."
He said the report's proposals "completely ignore" sectors such as tourism, agriculture and forestry and "fails to address their major concerns about current and future access to workforce."
'Growing support'
And he said there was "overwhelming and growing support" for a differentiated solution for Scotland, and the Scottish government would continue to press for immigration devolution.
But Scottish Conservative MSP Adam Tomkins called on the SNP to abandon calls for a separate immigration policy, claiming it could require a "border at Berwick".
Mr Tomkins said: "This independent report clearly states that a separate Scottish immigration system is not necessary for Scotland.
"In addition, the report identifies that Scotland's demographic needs are similar to the rest of the UK and might not be best solved by immigration alone.
"The SNP's call for immigration to be devolved is therefore entirely unnecessary and could actually be detrimental."
Scottish Liberal Democrat leader Willie Rennie said the immigration debate should be "fought UK-wide" and warned against "cutting ourselves off and looking at this issue in isolation".