Swinney: Scrapping P1 tests would be 'irresponsible'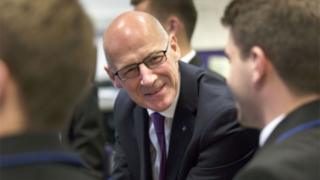 Education Secretary John Swinney has said it would be "deeply irresponsible" to scrap controversial tests for primary one pupils.
Mr Swinney claimed opposition politicians who have criticised the standardised national assessments have often been "ill-informed".
The Scottish Parliament will hold a vote on the issue on Wednesday.
Opposition MSPs called on the government to halt the tests if it is defeated on the issue.
Interviewed on the BBC's Sunday Politics Scotland programme, Mr Swinney refused to say whether or not he would scrap the tests if the government did lose the vote.
He said: "We'll see what parliament comes up with on Wednesday.
"Parliamentary motions are not binding on the government, the only thing that's binding on the government is legislation.
"So, we'll reflect on whatever parliament produces on Wednesday in the debate but we will make the very strong, evidenced argument for primary one standardised assessments because it's part of the integral process of learning for young people within Scotland.
"It's important that we identify at the earliest possible opportunity the needs of young people and support them to overcome those challenges."
'Tide of evidence'
In response, Scottish Liberal Democrat leader Willie Rennie added: "I've worked all my life for a democratic Scottish Parliament and I find it astonishing that a government minister could contemplate plowing onward if parliament expressly instructed him to stop."
Scottish Labour's education spokesman Iain Gray said Mr Swinney should "put the children of Scotland ahead of his ego and bin these tests".
Ross Greer, the Scottish Greens' education spokesman, said that if the government was defeated there would be no justification for Mr Swinney to "ignore the tide of evidence and the strength of feeling against this deeply misguided government policy".
Mr Swinney said he was "perfectly happy" to have a fact-based debate on the merits of standardised assessments.
'Deeply irresponsible'
But he added: "Frankly many of the criticisms from opposition politicians have ranged from ill-informed to hypocritical.
"Some opposition politicians are now proposing to scrap P1 assessments.
"To do this would be deeply irresponsible, and parents would quite rightly never forgive any politician who puts party politics ahead of the educational interests of their children."
He pointed out that councils run by Labour, the Conservatives and the Liberal Democrats were among those who carried out their own assessments in P1 prior to the national tests.
Only three local authorities out of 32, said Mr Swinney, did not test P1 pupils.
He added: "For those same parties to suddenly claim that there is an issue with P1 assessments when an SNP government adopts the policy nationally reeks of political opportunism of the worst order."