Vince Cable proposes new hurdle to independence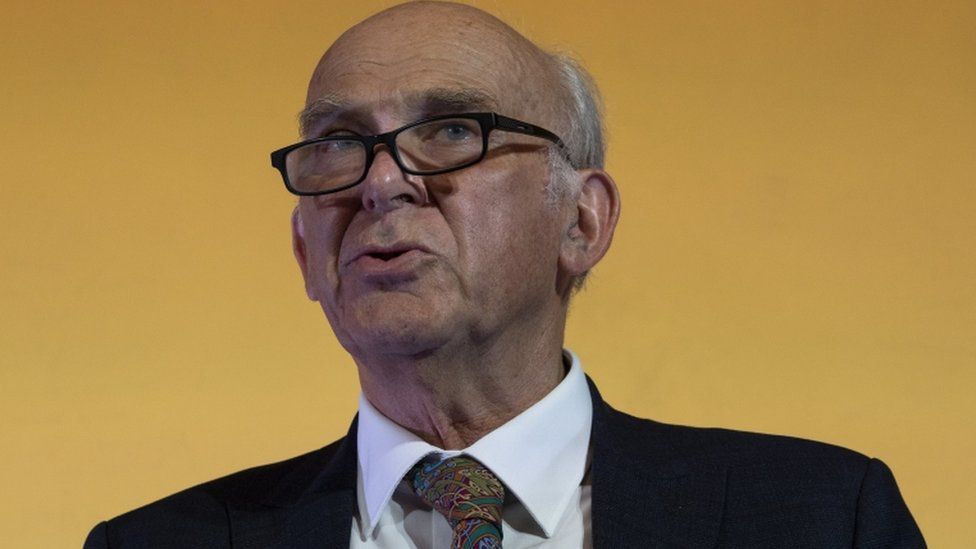 The Liberal Democrat leader has proposed making Scottish independence harder - by adding a further hurdle to the country leaving the UK.
Sir Vince Cable said any vote in favour of independence should be followed by another referendum on the terms of the exit settlement before Scotland leaves.
He said such "confirmatory" votes were common in countries like Switzerland, where referendums are common.
He also urged the SNP to "come off the fence" on a second EU referendum.
In an interview with BBC Scotland, Sir Vince - whose party wants to stop Brexit happening - said momentum for a so-called "people's vote" on the final deal between the UK and EU was building.
He said: "I think it's very clear that people in Scotland, as in other parts of the United Kingdom, don't want Brexit to happen.
"They want to stop it and it can be stopped, and the best mechanism for stopping it is to have a people's vote. I think momentum is building up behind that and I'm trying to work with people in other parties to make sure it happens."
The Lib Dems and SNP share a common goal of keeping the UK in both the single market and customs union - but Nicola Sturgeon has not yet endorsed holding a second vote on Brexit.
Sir Vince said he had been working closely with the SNP's Westminster leader, Ian Blackford, and hoped to "persuade them to support us" over efforts to stop Brexit happening.
He added: "We would like the SNP to come off the fence on the people's vote because this is absolutely crucial and they haven't got there yet."
With regard to a possible second vote on Scottish independence, Mr Cable said Scotland's desire to remain in the UK had been determined by the 2014 referendum.
But he said: "If there ever were in future a referendum on Scottish independence and people voted for it, I think they would themselves have to accept that there should then be a confirmatory vote at the end.
"That would be the way referendums are conducted in places like Switzerland, which use these things commonly.
"So I don't think there's any inconsistency with supporting us on the principle of having a people's vote on Europe."
Sir Vince was speaking ahead of the Liberal Democrat conference, which will be held in Brighton over the weekend.